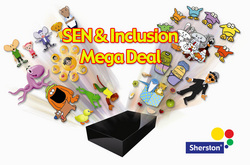 (PRWeb UK) March 29, 2011
The collection, designed for Early Years, Foundation and Primary school children, features titles drawn from the resources of SEN specialists SEMERC and Sherston Software. Designed for use by both SENCO departments and classroom teachers, the collection comprises specific SEN focused resources and those designed for general use but featuring enhanced inclusion features – making it ideal to support inclusion throughout the school.
The SEN and Inclusion Mega Deal also features the innovative interface first seen with the original Mega Deal that let you:

search for resources and titles – using an intuitive interface
review each title before using
read about the title and access the user guide
run the title directly from the drive or…
install any title on your computer or your school's computer network
All titles are supplied with full site licences and user guides (in PDF form).
Mindful of schools' budgets the SEN and Inclusion Mega Deal is priced at just £799, or approximately the cost of just three conventional site licences and is available now from http://www.sherston.com
For further information about The SEN and Inclusion Mega Deal, contact
Reeza Awoodun, Group Marketing Director on 07810 878585 or r(dot)awoodun(at)blieducation(dot)com.
Notes to the editor:
About Sherston
Part of BLi Education, Sherston is one of the UK's leading providers of educational software, with content covering every part of the curriculum. Its award winning outstanding reputation is built upon 25 years of providing schools with innovative, engaging products, with sound educational content. Sherston's broad portfolio includes a growing collection of online solutions, plus an extensive range of products that are VLE ready and CD-ROM deliverable. Co-development partnerships with major education specialists, including BBC Active, BBC Motion Gallery, Eurotalk, LDA, Oxford University Press and Softease are testimony to the reputation of Sherston within the education market.
###