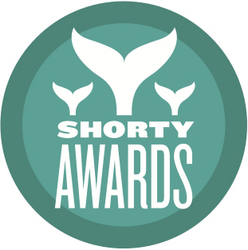 New York, NY (PRWEB) March 29, 2011
The Daily Show's Aasif Mandvi (@Aasif_Mandvi) hosted the 2011 Shorty Awards at the TimesCenter in New York City last night, honoring the top short form real-time content creators on Twitter, Facebook, Foursquare and Tumblr.
Award presenters included, Kiefer Sutherland (@RealKiefer), Jerry Stiller & Anne Meara (@StillerandMeara), comedian Jim Gaffigan (@JimGaffigan), CNN Anchor Ali Velshi (@AliVelshi), Stephen Wallem (@StephenWallem) from Showtime's Nurse Jackie, Miss USA 2010 Rima Fakih (@TheRealMissUSA) and Miss Teen USA 2010 Kamie Crawford (@TheRealTeenUSA).
During the ceremony, guests received a video greeting directly from space from astronaut Paolo Nespoli (@astro_paolo). Musician Amanda Palmer (@amandapalmer) performed a song on her ukulele that she wrote for the Shorty Awards, using the "best worst" tweets of the year as lyrics.
The Shorty Awards introduced new categories including Foursquare Mayor of the Year and Location of the Year presented by Foursquare co-founder and CEO Dennis Crowley (@dens), Tumblr Microblog of the Year and Best Brand Presence on Facebook.
The Shorty Awards partnered with sponsors Nokia (@Nokia) for the Connecting People Award, Showtime's Nurse Jackie (@SHO_Jackie) for the Nurse of the Year Award, PepsiCo (@PepsiCo) for the Green and Innovation Awards, The Macallan (@The_Macallan) for the Real-Time Photo of the Year Award and The Knight Foundation (@KnightFDN) for the Journalist Award.
The winners of the 3rd Annual Shorty Awards (listed alphabetically by category):
Actor: Neil Patrick Harris @ActuallyNPH
Actress: Stana Katic @Stana_Katic
Apps: COLOURlovers @colourlovers
Art: One Stop Poetry @Onestoppoetry
Author: Shawn S. @TreatWomenRight
Author: John Green @realjohngreen
Celebrity: Kim jae joong @mjjeje
Charity: The Trevor Project @TrevorProject
Connecting People: Shannon Miller @shannonmmiller
Cultural Institution: Tyneside Cinema @tynesidecinema
Cultural Institution: Science Gallery @ScienceGallery
Customer Service: Research In Motion @BlackBerryHelp
Design: Codeorama @Codeorama
Entertainment: Barney Stinson @Broslife
Fashion: Ann Li @thisisAnnLi
Finance: Slow Money @SlowMoney
Food: Epic Meal Time @EpicMealTime
Foursquare Location of the Year: South By Southwest
Foursquare Mayor of the Year: Baratunde Thurston @baratunde
Gaming: Adam Montoya @SeaNanners
Government: Cory Booker @CoryBooker
Green: Mud Baron @Cocoxochitl
Humor: The Dark Lord @Lord_Voldemort7
Innovation: Rene Silva Santos @Rene_Silva_RJ
Journalist: West Wing Report @WestWingReport
Microblog of the Year on Tumblr: The Daily What
Music: Jonas Brothers @JonasBrothers
News: Lei Seca RJ @LeiSecaRJ
News: The Young Turks @TheYoungTurks
Nurse: Ronivin Pagtakhan @ronnievinn & Matthew Browning @MatthewBrowning
Politics: Marina Silva @silva_marina
Politics: The Bloggess @TheBloggess
Real-Time Photo of the Year: Moon from Space by Douglas H. Wheelock
Science: MythBusters @MythBusters
Social Media: Facts About Boys @FactsAboutBoys
Sports: New Orleans Saints @Official_Saints
Tech: SoldierKnowsBest @SoldierKnowBest
Television: Attack of the Show @aots
Television: Sesame Street @sesamestreet
Travel: JD Andrews @earthXplorer
Weird: Alli Speed @allispeed
Weird: I do this too! @omgidothistoo
Special and Industry Awards:
Lifetime Achievement: Conan O'Brien @conanobrien
Best Brand Presence on Facebook: Threadless
Best Brand Presence on Facebook: Carnival Cruise Lines
Best Brand Presence on Twitter: Threadless @threadless
Best Integration of Social Media with Traditional Media: MTV's 2010 VMAs Twitter Tracker
Best Location-Based Marketing: Bravo's Top Chef Just Desserts
Best Social Game: Gillette's Blade Change Challenge
Best Use of a Video as Part of a Social Media Campaign: Daniel Radcliffe Video for The Trevor Project
Best Use of a Video as Part of a Social Media Campaign: Ken Block's Gymkhana Three, Part 2
Best Use of Facebook in a Marketing Campaign: Chick-fil-A Spicy Chicken Sandwich
Best Use of Twitter in a Marketing Campaign: @TrueBloodHBO Season 3 Premiere
Best Use of Twitter or Facebook for E-Commerce: Benefit Cosmetics' Bazaarvoice Ratings & Reviews
Best Viral Campaign: The Last Exorcism's Chatroulette Reactions
About the Shorty Awards
Hailed as the "Oscars of Twitter" by The New York Times, the Shorty Awards honor the best people and organizations producing short-form, real-time social media content. Winners are determined by a combination of popular vote and members of the Real-Time Academy of Short Form Arts & Sciences. http://www.shortyawards.com
About the Real-Time Academy of Short Form Arts and Sciences
The Real-Time Academy of Short Form Arts & Sciences, comprised of leaders in technology, journalism, business and culture, plays a role in choosing the winners from Shorty Awards finalists. The group includes actress and philanthropist Alyssa Milano, Foursquare co-founder and CEO, Dennis Crowley, Craigslist founder, Craig Newmark, actress and designer, Whitney Port, entertainer and entrepreneur, MC Hammer and Wikipedia founder, Jimmy Wales. http://www.rtacademy.org
About Sawhorse Media
Sawhorse Media filters, curates, and makes sense of the real-time web by creating fun, engaging, and useful products. Sawhorse sites include the directory of Twitter people and lists Listorious, the leading destination for journalists on Twitter Muck Rack, and a network of more than a dozen vertical Twitter sites. http://www.sawhorsemedia.com
Press Contact:
Leslie Richin
(347) 217-4775; leslie(at)lowmaintenancepr(dot)com
###