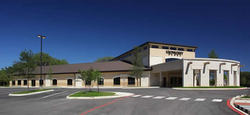 What made this project so special was that the entire Boerne and Kendall County community was involved in its success.
San Antonio, TX (PRWEB) March 30, 2011
Koontz McCombs Construction Ltd. was presented with an Excellence in Construction award from Associated Builders and Contractors Inc. (ABC) at the organization's 21st annual awards ceremony in Orlando, Fla. Koontz McCombs won a Pyramid Award for Kronkosky Place, a 28,000-square-foot activity and nutritional center in Boerne, which is part of the Rainbow Senior Center. The project began February 2009 and was completed March 2010.
"This project is an outstanding example of the innovation and commitment to superior craftsmanship that embody merit shop construction," said Michael D. Bellaman, ABC president and CEO.
"What made this project so special was that the entire Boerne and Kendall County community was involved in its success. From a diligent innovative capital campaign, through a painstaking design and value process, through construction and completion, the team never wavered from its primary goal of providing the community's senior citizens with excellent services. The entire project team started and finished with an infectious 'can-do' approach," said Koontz McCombs Construction President Jerry Turman. "Now, people over 55 have a first-class facility where they can age in a healthy way with a fitness center, a healing and resource center, on-site meals, transportation services, and continuing education classrooms."
The Excellence in Construction awards program is the industry's leading competition, developed to honor innovative and high-quality merit shop construction projects and safety programs. The award honors all construction team members, including the contractor, owner, architect and engineer. The winning projects, selected from entries submitted from across the nation, were judged on complexity, attractiveness, unique challenges overcome, completion time, workmanship, innovation, safety and cost. This year's competition was open to all construction projects completed by ABC member firms in 2010. A panel of industry experts served as the competition's judges. This year's panel included representatives from the Design-Build Institute of America, Engineering News-Record, the American Institute of Architects, the National Association of Women in Construction and representatives from higher education, among others.
About Associated Builders and Contractors (ABC)
ABC is a national association with 75 chapters representing more than 23,000 merit shop construction and construction-related firms with nearly two million employees.
About Koontz McCombs
Koontz McCombs is a well-established and respected commercial real estate development, construction, leasing and property management firm with high-profile properties in San Antonio, Houston and Austin. Its extensive experience, market knowledge and solid financial foundation enable Koontz McCombs to develop, build and manage a diverse range of forward-thinking properties including office, health care, institutional, multi-family, retail centers and more.
###