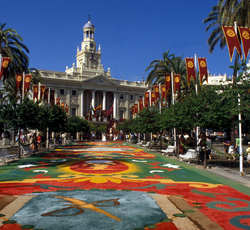 (PRWeb UK) March 31, 2011
Guided tour operator, The Travel Department, has launched a new range of Spain holidays from Ireland. With both Dublin and Cork departures, The Travel Department are offering guided tours across Spain from the Basque country to Andalucia.
The new range of Spain holidays include:

Costa del Sol, Malaga city and Gibraltar
Costa Brava and Barcelona
'Highlights of Majorca'
Madrid and Highlights of Central Spain
Highlights of Ibiza
'Hidden Andalucía'
The Travel Department's Spain holidays are suited to those who long to discover the culturally diverse heritage and history of the country. Indeed, Spain has the second highest number of UNESCO World Heritage Sites in the world after Italy.
Travel and socialise with like-minded people experiencing the best that Spain has to offer from the Catalonia Coast to Madrid and Central Spain, Andalucía and the Balearic Islands of Ibiza and Majorca. Customers can also try out the best of Spanish cuisine including local tapas from Granada or the wine of the Las Alpujarras region.
All of The Travel Department's Spain holidays are comprised of escorted tours with local guides and itineraries including full and half day visits to well-known sites and attractions. Highlights include The Alhambra Palace in Granada, the World Heritage city of Cordoba, The UNESCO World Heritage site of Avila, and the towns of Ronda and Toledo.
Airport transfers and return flights to Ireland are also included within the price.
About The Travel Department
The Travel Department is a leading operator of escorted holidays worldwide. Their holidays offer a professionally planned itinerary, the expert knowledge of a local guide and the convenience of booking an "all-in" package.
Operating to over 40 countries around the world, The Travel Department offer a wide and varied range of holiday destinations and types. The company offer 150 destinations worldwide ranging from leading European locations including France, Italy and Spain, to long haul destinations in Asia, Africa, Australasia and The Americas.
The Travel Department's holiday types range from popular sightseeing and cultural holidays and weekend breaks through to special interest tours, cruise holidays and activity breaks.
Full details of all holidays are available on http://www.thetraveldepartment.ie or by calling 01 637 1600.
###