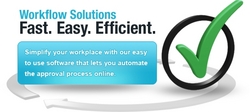 "ApproveFlow is the fastest and most efficient way to communicate with clients, vendors and staff.", Dwight Hooper, CEO of RiGHT BRAIN MEDIA
Orlando, FL (PRWEB) March 31, 2011
Right Brain Media is proud to announce the launch of ApproveFlow.com, an easy to use online business solution that lets users automate the decision making process. This web-based application allows users to post, share and store design comps, legal documents, purchase orders, contracts and more with a designated group of participants. Communication including Approvals, Denials or Comments are stored online making messy inboxes and miscommunications a thing of the past.
"ApproveFlow is the fastest and most efficient way to communicate with clients, vendors and staff.", Dwight Hooper, CEO of RiGHT BRAIN MEDIA "Every day we are inundated with hundreds of email requests so we wanted to create something that would streamline the communication process. We are excited to launch this new product and look forward to seeing individuals utilizing it to improve their business process."
ApproveFlow.com Features:

Free subscriptions for individual users
Advanced business subscriptions as low as $19.95 per month
No software installation needed
Participants do not need to be registered users
Ability to share application with other users in your organization
Store your communication in one central location
Outlook add-in
Basecamp add-in
iPhone App coming soon
Droid App coming soon
Want to try it? Check out our free subscription at http://www.ApproveFlow.com
About RiGHT BRAIN MEDIA
Right Brain Media, Inc (RBM.TV), founded in 2002, is a pioneer in web technology offering products, services and solutions to businesses, ministries and non-profit organizations. Specializing in digital media centers, websites, internet TV channels, live streaming products, mobile apps and more, RBM.TV uses cutting edge technology to create custom solutions for clients to propel their businesses forward.
Right Brain Media has evolved over the years into a global leader in the digital media industry. In 2010, Right Brain Media developed a digital media platform for the college sports market including Big East, PAC 10, SEC Sports and University of Auburn that encompasses a range of the RBM video and live streaming technology. Our portfolio has grown with over 25,000 RBM.TV downloadable applications, 2,000+ websites, 10,000+ live streaming events and 100 +mobile applications.
PR Contact:
Erika Rossi-Raia,Director of Communications
RiGHT BRAIN MEDIA
121 S. Orange Ave., N820-B
Orlando, FL 32801
407-909-9718 ext 104
Dwight Hooper,CEO
RiGHT BRAIN MEDIA
121 S. Orange Ave., N820-B
Orlando, FL 32801
407-909-9718
###