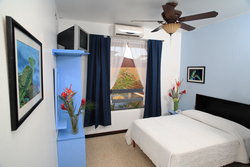 "For the right person or couple, this is not only a good business it is also a great life"
Saint Petersburg, FL (PRWEB) March 30, 2011
An iconic Costa Rica hotel property located in the Pacific town of Quepos is now for sale, and according to local experts, is priced to sell quickly. The Sirena Hotel, a local institution and host to some of the most famous anglers from around the world is located just steps from the brand new Marina Pez Vela. Its location close to the fishing and diving operations and their boats has made it the hotel of choice for many years for the serious anglers that come to experience the world class opportunities found just offshore.
Considered an oasis in the growing Pacific town of Quepos, the Sirena has its own swimming pool and small patio bar and is the "hideout" of choice for those looking to escape the high priced hotel of adjoining Manuel Antonio and need to find a cheap taxi at the time when they to the marina. "Its time" says co owner Steve Hodel. Now raising a family in St. Petersburg Hodel admits he cannot dedicate the time required as he once could.
"It's a matter of priorities and fairness, I need to be here in St. Pete and I cannot leave my brother to do all the work, especially with everything he has on his plate.
His brother Rob Hodel, is based in Costa Rica but commitments to Tico Travel and their development Orchid Point Estates, keeps him in the Central Valley overseeing these projects.
The Sirena boasts 14 quaint rooms with air conditioning, cable television, mini-bar, and are decorated by award winning BBC photographs of Costa Rica wildlife.
Adjacent to the hotel is an additional property that could be used for more rooms or a separate business but currently hosts the large reception and office center for guests, which includes WiFi in all the public areas.
While currently profitable the "gold mine" as the brothers call it still has plenty of room to generate more sales through higher occupancy, tour and restaurant sales. All of this would require them to spend more time in Quepos.
"When I was in the Sportfishing Business we lived by the mantra, you never leave fish to find fish, and in the businesses we have in the San Jose area we have fish (business) that does not make sense for me to be in Quepos anymore, but I will miss it" says Rob Hodel, former owner of the Swordfish, one of Quepos's most well known charter boats.
"For the right person or couple, this is not only a good business it is also a great life"
Hodel affirms. "I only wish that I did not make the commitments I did before my brother started his family but I am more than please with the trade for the opportunity to have a niece!
According to Hodel, the hotel is completely "turn key", sits atop of the rankings of Trip Advisor based on guests comments as well as being recommended by most of the major Costa Rica guide books such as Lonely Planet and Moon Guide Costa Rica. It does not require any hotel experience to run, only the ability to interact with travelers over the complimentary breakfast.
In regards to the price of the hotel Hodel received many opinions.
"Some told us that because of the reputation, lack of any competition and its proximity to the new marina they should ask for top dollar." Hodel says.
"But the people that buy this place are not looking to collect a museum piece, they will need to make a living, and a good living. They cannot due that if they pay a fortune or have enormous payments to make every month. Costa Rica is a small place and I am planning on being here a long time so its in my best interest that the buyers are successful, hopefully as well as the gentleman that bought the Swordfish from us. Besides, we have decided to sell so the price we put on it hopefully will mean it will sell as fast as the Swordfish, which took just two days."
Opportunities like these don't come along everyday. If you are looking to "live the dream" and still want a way to be able to pay for it, and allow for a good income, than this is one of those rare opportunities.
Sometimes in life it's timing that counts more than anything else. For Hodel the time to make the move to sell has come. Is it your time to finally make a move for yourself?
###