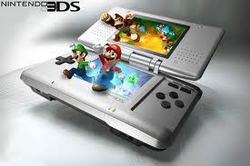 A Brand New Nintendo 3DS sold on BidRivals for just 1.53 USD.
(PRWEB) March 30, 2011
Nintendo has just unveiled to the world the hottest piece of gaming technology yet to be seen in 2011. The 3DS Nintendo which is better known as the 3DS is a seriously cool tech must have, raising the standards for the portable gaming industry. The 3DS Launch by penny auctions giant BidRivals.com has given access to this well designed device at highly discounted rates by using their entertainment shopping system, Nintendo lovers can now access the brand new 3DS Nintendo at incredibly discounted rates of up to 90 percent off! One of the first few Nintendo 3DS's released for auction on BidRivals sold for just 1.53 USD.
The Nintendo 3DS works exceptionally well, Nintendo has gifted the 3DS with a beautiful and bright 3.5 inch screen, a comfortable thumb pad and compatibility with previously released DS games. The glasses free 3D feature makes this console unique in the world, the gaming difference that this makes is fantastic offering literally another dimension for the avid gamer to explore.
Immediately DS users will notice the 3DS looks nearly identical to its previous versions. The main differences are a bigger upper 3D screen and a two lens 3D Camera. The analog pad is also worthy of a mention, Nintendo got this right on the 3DS by making it a concave rubber circle which is comfortable to hold and offers the perfect combination of spring and resistance. All this means that the 3DS is a sure winner and portable consoles will now need to play catch up.
The company offers customers the ability to get up to 90% off brand new, premium quality merchandise via its entertaining Auction bidding system. BidRivals also operates as a traditional Online Retailer as it offers customers the option to purchase an item outright. With new items added to the catalogue every week, BidRivals takes pride in offering choice and variety and 24/7 customer support.
About the Company
BidRivals Ltd owns and operates BidRivals.com, an Online Auctions and Retail portal. Based in Malta, the company also has regional offices in USA and Australia. Operating since July 2009, BidRivals.com is one of the oldest Penny Auction operators in what is still a very fledgling industry.
For media enquiries contact:
Keith Montanaro
e-mail: keith(at)bidrivals(dot)com
###