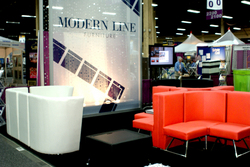 Rahway, NJ (PRWEB) March 31, 2011
The Modern Line Furniture staff was happy to see so many familiar faces at The Rental Show this year, with scores of our national rental and event clients in attendance. Not only were they making their way to our booth to see the latest addition to our line, but also to offer their positive feedback regarding the products that their clients have been enjoying since adding Modern Line Furniture merchandise to their inventory. Of course, it was great to see some new faces as well and to hear that word-of-mouth is traveling quickly to other professionals in the industry.
Whether it was existing or potential clients, the reaction to the new Sofia collection was nothing but positive. It was clear that everyone loved what they saw at the Modern Line Furniture booth, especially after discovering that a product that looks so good can be so functional as well. We knew it was necessary to design a new collection that offered even more simplicity and ease of use for our event and rental clients, making the task of transporting merchandise in and out of a facility a cinch. The Sofia really wowed the crowd in more ways than one, getting people exited about all of the possibilities for their next event.
With approximately 20 preconfigured sets available in our line, as well as the ability to customize a configuration to suite more specific needs, Modern Line Furniture is ready to help the rental and event industry amaze their clients with the Sophia. The unique design, in addition to the durable construction, enhances our already diverse collection of event-friendly products that aim to please for event after event after event.
###