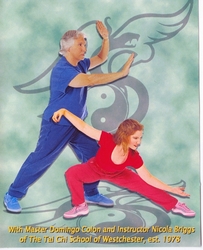 Bronxville, NY (PRWEB) March 31, 2011
To celebrate the 13th Annual World Tai Chi Day, the Tai Chi School of Westchester, est. 1978 will perform a demonstration of Tai Chi at the Bronxville Village Hall, 200 Pondfield Road, Bronxville New York, Saturday April 30, 2011 at 10 AM. Visitors are invited to join in on these enjoyable, gentle exercises that anyone can do. All participants will also receive a certificate good for One Month of Free Tai Chi Classes.
Master Domingo Colon, the director of the Tai Chi School of Westchester, began his study of Tai Chi in 1965 in New York City and opened his school in Westchester in 1978, making it the oldest school specializing in Tai Chi in Westchester New York. Master Colon is the author of the popular "Seniors Tai Chi Workout" book and has also produced a series of outstanding instructional DVD's to help anyone easily learn Tai Chi at home.
The Tai Chi School has taught and continues teaching classes throughout New York and Connecticut in senior centers, nursing homes, hospitals, colleges, community centers and corporations, as well as at their own studio located at 101 Pondfield Road West in Bronxville, New York. Master Colon has appeared on countless TV and radio interview programs to help promote the healing art of Tai Chi.
This year the World Tai Chi Day Demonstration is especially memorable as it also represents a landmark 25 years of the Tai Chi School of Westchester teaching in Bronxville.
###