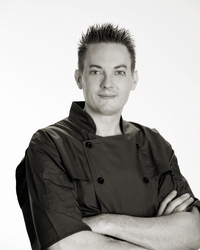 Through my dinner, I hope guests will see how the fresh, native ingredients of New England can bring both history and contemporary flavors together beautifully.
Kennebunk, ME (PRWEB) March 30, 2011
Culinary innovator Jeffrey Savage, Executive Chef of On The Marsh Bistro in Kennebunk, Maine, will host a charitable event for the James Beard Foundation on Wednesday, April 6, 2011. Held at the historic James Beard House and benefiting the Foundation's work to celebrate, nurture, and preserve America's diverse culinary heritage and future, this industry honor will exclusively feature Savage's interpretation of a New and Old School New England Dinner, including three to five passed hors d'oeuvres and a five to six course banquet-style tasting menu for 80 guests. Chef Savage will also select wine pairings for each menu item that best enhances the flavor of the offerings.
"It's a delight to be returning to the James Beard House a second time to share my passion for regional New England ingredients," said Savage. "The James Beard Foundation is well-known throughout culinary circles, and I'm proud to be a part of the strong tradition that celebrates food and culinary heritage. Through my dinner, I hope guests will see how the fresh, native ingredients of New England can bring both history and contemporary flavors together beautifully."
Highlighted dishes from Chef Savage include:

Gulf of Maine Fluke Sashimi with yuzu juice, piment d'espelette, sea salt, and lime radish
Johnny Cake with creton and house pickled wild Maine ramp
Pan-Seared Browne Trading's Maine Diver Scallop with sunchoke puree, guanciale, and multi-colored carrot-ginger slaw
New England "Pot Roast" – Braised Waygu eye of the round, Morse's natural sauerkraut and North Country bacon, braised carrot, onion ring, Maine potato biscuit and local honey butter
Maine Blueberry Kuchen with house-made Grand Marnier-blueberry ice cream.
"On The Marsh Bistro is known for its use of regional ingredients procured from personal relationships with local suppliers, so it's very satisfying to see this same idea highlighted through Jeffrey's invitation to the James Beard House," said Denise Rubin, owner, On The Marsh Bistro. "His love of native New England ingredients and culinary history will undoubtedly shine through, while also bringing inventive new flavors to create a comprehensively delicious meal. We're thankful to call him our Executive Chef - his culinary experience and avant-garde perceptiveness helps to make our restaurant the success it is."
About Chef Jeffrey Savage
Executive Chef Jeffrey Savage is the creative and innovative force behind the European country cuisine at On the Marsh Bistro in coastal Kennebunk, Maine. Since joining the staff in 2005, he has continually reinvented himself and the menu with ever-changing ingredients and a whimsical air. Utilizing loyal relationships with local farmers, fisherman and suppliers to ensure top quality in the kitchen, each menu selection from Chef Savage showcases innovation, thoughtfulness, and attention to detail.
Aside from creating discriminating cuisine, Chef Savage also believes in sharing the qualities of his kitchen. He offers culinary classes, themed nights, and in-kitchen dining to special guests regularly, as well as endorsing the food awareness movement, which supports the blending of food and nutrition to promote health. He manages a certified green kitchen at On The Marsh, is a member of the Kraft online advisory board, and has previously presented a Lobster Degustation dinner at the James Beard House in 2006.
Following introductions with Chef Savage, the dinner will begin at 7:00 pm; all proceeds will go directly to the James Beard Foundation to support the Foundation's various programs including educational workshops, culinary scholarships and seminars.
About On The Marsh Bistro
On The Marsh Bistro is a European-style, elegantly eclectic restaurant in coastal and scenic Kennebunk, Maine. Voted one of the Top Ten Restaurants in Maine and awarded the Wine Spectator Award of Excellence in its first year, On the Marsh has been successful since the doors on the circa-1800's farmhouse opened. First-time owner and restaurateur Denise Rubin utilized her background in interior design to create a peaceful dining experience with internationally procured architectural elements, innovative cuisine, romantic corners, and a beautiful, natural marsh view. Special events at the restaurant include weddings, private parties, dinner or culinary classes with Executive Chef Jeffrey Savage, and wine dinners. On The Marsh is active in community involvement, including charity work with The Freedom House for battered women, Freedom Wheels, local food pantries, and the Southern Maine chapter of the American Heart Association, and also holds an Environmental Leader certificate from the Maine Department of Environmental Protection. Visit On The Marsh Bistro at http://www.onthemarsh.com or on Facebook.
About the James Beard Foundation
Founded in 1986, the James Beard Foundation is dedicated to celebrating, nurturing, and preserving America's diverse culinary heritage and future. A cookbook author and teacher with an encyclopedic knowledge about food, James Beard, who died in 1985, was a champion of American cuisine. He helped educate and mentor generations of professional chefs and food enthusiasts. Today, the Beard Foundation continues in the same spirit by administering a number of diverse programs that include educational initiatives, food industry awards, scholarships to culinary schools, and publications, and by maintaining the historic James Beard House in New York City's Greenwich Village as a "performance space" for visiting chefs. For more information, please visit http://www.jamesbeard.org. Find insights on food at the James Beard Foundation's blog Delights & Prejudices. Become a member of the James Beard Foundation, join us on Facebook and follow us on Twitter.
###