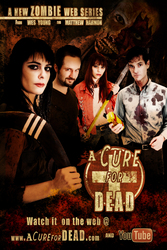 Sacramento, CA (PRWEB) March 31, 2011
A single vial is all the surviving human race can put their faith in to restore life the way it used to be before the zombies took over. A Cure for Dead; a new zombie web-series written, directed, and Produced by Wes Young, Executive Produced by Matthew Harmon brings Hollywood flare to your personal computer. Its True Blood meets Zombieland! Five to eight minutes long, and released bi-monthly; fans will be chomping at the bit for more.
A scientist has developed a cure for a looming zombie sickness. After a zombie attack on his lab a single vial is all that remains and the only lab to reproduce the cure is hundreds of miles away. Unable to survive the trip alone he enlists the help of three other survivors in an attempt to save what's left of humanity.
Keep your eyes on the website/blog and stay tuned for more to come!
Misfire Productions and Newmanic Media joined forces with the goal of creating new media content for the next generation.
If you'd like more information about A Cure for Dead, or to schedule an interview with the director, please call Matthew Harmon at 916-740-1098 or e-mail Matthew at matthew(at)newmanicmedia(dot)com
http://www.acurefordead.com.
http://www.youtube.com/watch?v=m8pQW3_YdCw
IMAGE: http://www.acurefordead.com/wp-content/uploads/2011/03/12x18-ACFD-Poster-600px.jpg
Contact: Matthew Harmon
Newmanic Media
916-740-1098
matthew(at)newmanicmedia(dot)com
http://www.ACureForDead.com
# # #