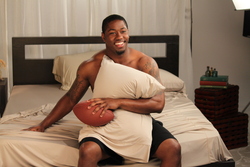 "SHEEX allow my body to breathe and I never wake up hot nor uncomfortable like I used to when I slept on cotton."
Houston, TX (PRWEB) March 30, 2011
SHEEX, maker of the world's first performance bedding, announced today that it has added Houston Texans running back Ben Tate to its family of world-class professional athletes.
A former standout at Auburn University, Tate was a second-round pick in the 2010 NFL Draft. This marked the only time in Texans history that the team had drafted a running back earlier than the third round. Tate sustained a season-ending injury in the Texans' preseason opener, but he's looking forward to making his NFL regular-season debut this fall.
"No more rehab," he announced recently to fans on Facebook. "I'm sooo happy."
SHEEX was founded in 2007 by former University of South Carolina women's basketball coaches Susan Walvius and Michelle Marciniak. Prior to coaching, Walvius starred as a player at Virginia Tech, while Marciniak played in the WNBA after leading the University of Tennessee Lady Vols to their fourth national championship and being named MVP in the 1996 Final Four Tournament, playing for legendary coach Pat Summitt. Their experiences in athletics are what helped ignite the idea behind SHEEX.
"Michelle and I were inspired by the feel, breathability and quick-dry features of performance fabrics," Walvius said. "Unlike soak-drenched cotton T-shirts and shorts, performance fabrics breathe better, wick moisture and stretch to move with your body. After two years of research and development, we learned that these advanced materials are able to create and maintain optimum conditions for deeper, more restorative sleep. In 2009, SHEEX Performance Sheets featuring SLEEP•FIT Technology went to market as the world's first luxury bed sheets crafted from performance athletic fabrics."
Having gained rapid acclaim and word-of-mouth momentum, the high-quality bedding engineered to help people 'Sleep Better and Play Better ' is launching nationwide at Bed Bath & Beyond stores the first week of April.
"I am excited to be working with a first-class company that is inspired by athletes to help people sleep better and gain a competitive advantage by night - literally," said Tate. "SHEEX allow my body to breathe and I never wake up hot nor uncomfortable like I used to when I slept on cotton."
Ben Tate joins NFL colleagues Steve Smith and Mike Thomas, LPGA stars Becky Morgan and Diana D'Alessio, and Ironman World Champion Mirinda Carfrae along with other world-class athletes as part of the growing family of SHEEX Sleep Ambassadors.
About SHEEX
SHEEX, Inc. was co-founded in 2007 by former University of South Carolina basketball coaches Susan Walvius and Michelle Marciniak. Both were accomplished collegiate student-athletes: Walvius starred at Virginia Tech and earned acclaim as a scholar-athlete while Marciniak played for the legendary coach Pat Summitt at the University of Tennessee and led the Lady Vols to the 1996 NCAA title while earning MVP honors in the championship game.
SHEEX has been seen at the ESPYs, the U.S. Women's Open Championship, and the National Association of Collegiate Women Athletics Administrators annual convention. The SHEEX founders have twice been recognized at Fortune Magazine's Most Powerful Women Summit and are profiled in the March issue of O, The Oprah Magazine. View a sneak peek of the story here: http://ow.ly/3XDeQ
SHEEX's mission is to create an entirely different kind of bed sheet using the finest in professional-quality athletic performance fabrics. SHEEX product lines include the Home, Nautical (boat), Travel and Baby Collections. More information is available at http://www.SHEEX.com.
###