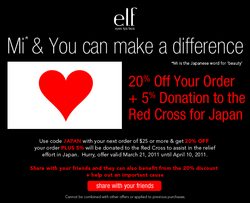 New York, NY (PRWEB) March 30, 2011
In the wake of the devastating Earthquake and Tsunami that struck Japan on March 11th, an internationally recognized makeup and cosmetics company e.l.f., has announced a relief initiative that will donate a percentage of their online sales to the Red Cross. The cosmetic company will run the relief efforts starting immediately and will keep these efforts going until April 10th, 2011 by donating 5% of online sales that use a dedicated code "JAPAN".
The effort titled "Mi & You can make a difference" was developed to make it easy for thousands of e.l.f. customers to join in the relief efforts ("Mi" is the Japanese word for 'beauty'). Users simply have to shop for their favorite makeup products at the e.l.f. online store (EyesLipsFace.com) and use the code "JAPAN" during checkout. The makeup company will then donate 5% of the entire purchase amount to the Red Cross to aid with the Japanese recovery efforts.
Anyone wishing to participate in the e.l.f. "Mi & You can make a difference" relief program can do so by visiting a site http://www.eyelipsface.com and purchase any item on the site including their popular 100% mineral makeup and professional studio makeup line of products. Just as a reminder these purchases must be made by April 10th, 2011. Those who are regular customers of e.l.f. makeup & cosmetic products are encouraged to share this promotion with their family and friends to further strengthen everyone's relief efforts and help the tragedy stricken people of Japan.
Donations to the Red Cross will be used to deploy response teams to the stricken areas - providing food, water, medication, and shelter to victims of the quake. In addition, mobile clinics with doctors and nurses have been sent providing much needed healthcare to the most devastated areas. The Red Cross is also assessing the damage and needs of the communities that are affected to properly provide the support they need. For more information on the Red Cross and its Japan efforts, please visit http://www.redcross.org.
Eyes Lips Face prides itself in being a leader in social responsibility. Previously, the makeup company has donated to Breast Cancer Research initiatives in the "Shimmering Facial Whip" event. In addition, the company is a strong opponent of Animal Cruelty, partnering with PETA in the "Fur Free" campaign.
About e.l.f. Cosmetics:
e.l.f. Makeup & Cosmetics was created in the belief that innovative technology, quality ingredients and superb delivery systems should not be limited to prestige retailers, and every woman should have the opportunity to experience luxury cosmetics without sacrificing her budget. Since the brand's introduction over six years ago, the EyesLipsFace.com website (has grown to include over 2 million members and has become a global source for savvy beauty consumers looking for superior quality cosmetics, professional expert tips and valuable feedback.
###