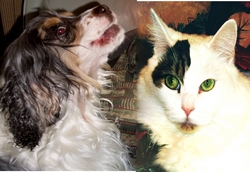 We are donating $1,000 and giving graduated amounts of $250 each to the Japan Cat Network; Heart – Tokushima; Animal Garden Niigata; and World Vets.
Grants Pass, OR (PRWEB) March 31, 2011
After reading a CNN news report Sunday, Teddy, a mixed-breed cat and Max, a purebred Cocker Spaniel, moved quickly to help the four-legged victims of the earthquake and Tsunami in Japan. Max and Teddy are official "spokes-pets" for Animal Advertising Center, LLC, a newly formed animal advertising and information company, whose mission is to provide a platform for animal suppliers and pet products to reach a specific animal and pet-centered audience. In return, Max and Teddy donate a portion of their net profits to support animal rescue and animal preservation organizations.
Teddy and Max asked Winfield, the owner of Animal Advertising Center, not to wait but to help their animal brothers and sisters now. Winfield reports that most rescue efforts so far in the disaster relief effort have been focused on human life and little for the animals.
Many foreigners that were living in Japan before the earthquake and tsunami are now leaving the country and their animals behind, many without any means of subsistence or even the means of escaping (some were left by their owners tied up or locked in their homes and unable to get food or water). The wild animals also seem to have been forgotten. Many small mammals, including some which may be listed as endangered or threatened, have also been affected by the catastrophe. Unfortunately, animal rescuers cannot get into these areas and consequently, information on what animals have been affected and what animals need assistance is difficult to make.
More help is needed for our furry, feathered and scaly friends. Animal Advertising Center, a limited liability company, headquartered in Grants Pass, Oregon, USA, is a startup company that will donate from net profits to non-profit organizations which put 90% or more of the money they receive into accomplishing their animal preservation, care and rescue missions. Since the Japan earthquake and tsunami happened before Animal Advertising Center officially launched, the co-owners, Winfield and Clare Frazeur were compelled to act quickly despite not being fully operational. Winfield reports, "We are donating $1,000 and giving graduated amounts of $250 each to the Japan Cat Network; Heart – Tokushima; Animal Garden Niigata; and World Vets."
If you wish to support these groups please contact them as the coalition or individually.
Coalition: Japan Earthquake Animal Rescue and Support:
http://japanearthquakeanimalrelief.chipin.com/japan-earthquake-animal-rescue-and-support/
Or individually: Japan Cat Network, Heart – Tokushima, Animal Garden Niigata, and World Vets.
To learn more about the Animal Advertising Center, contact Winfield, Teddy or Max at 541.956.8818, winfield(at)animalac(dot)com, or visit the website http://www.animalac.com.
About Winfield
Winfield, a retired U.S. Navy Chief Photographer has been a commercial freelance photographer for over 55 years and has had animals in his life since the early 1950s. Winfield's extensive animal experience includes breeding German Shepherd dogs; owning cats of various breeds; a 3,000 duck, goose and swan farm and hatchery; has owned and bred various parrots; has been a tropical aquarium fish hobbyist and fish breeder since 1952; owning up to 110-aquarium fish tanks at one time; owned horses in the late 1950s and early 1960s; has owned many types of small animals; and has worked in pet shops and tropical fish stores. Winfield is a member of many animal organizations and has been a subscriber of Tropical Fish Hobbyist Magazine since Dr. Herbert Axelrod first bought the magazine in the early 1950s.
About the Company
Animal Advertising Center was formed in early 2011 to help animal owners connect with animal and animal-related suppliers. Net profits of Animal Advertising Center are donated to organizations that meet their criteria for supporting animal rescue and animal preservation organizations.
© 2011 Animal Advertising Center
CONTACT:
Winfield S. Frazeur IV
Phone: 541.956.8818 or 541.324.1312
Email Address: Winfield(at)animalac(dot)com
Website Address: http://www.animalac.com
# # #