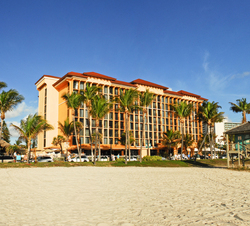 "We believe in Deerfield Beach; in its beauty, its tradition and its future. We have a unique location in a unique community. Our fabulous new resort is our way of providing a boost to the region as a whole.
Deerfield Beach, FL (PRWEB) March 29, 2011
The Wyndham Deerfield Beach Resort officially commemorates its grand opening today, following the conclusion of a seven-month, major multi-million dollar transformation to join the upscale Wyndham Hotels and Resorts brand.
The 172-room Wyndham Deerfield Beach Resort, ideally situated on the award-winning Deerfield Beach just south of Boca Raton, represents the conclusion of a stunning renovation that has modernized the property's public spaces and guest rooms, business center, fitness center, gift shop and meeting space.
The interiors and exteriors of this unique landmark beachfront property have been completely rejuvenated, bringing ocean views to each of the stylish hotel's eight floors. Today, the magnificent oceanfront hotel graces the Deerfield Beach skyline and is the centerpiece of the waterfront's redevelopment efforts.
In a bold architectural statement, the project - undertaken by owners Deerfield 21 Corporation, an affiliate of Chase Enterprises - has enhanced the entire resort, introducing features such as dramatic corner suites with floor-to ceiling beach and ocean views along the Deerfield/Boca Raton shoreline.
Guest room upgrades include floor-to-ceiling window views in every room, oversized flat-screen televisions, complimentary wired and wireless internet, as well as Wyndham's signature Be Well® bedding. All rooms and bathrooms now feature granite surfaces, frameless glass shower enclosures with rainfall showerheads and luxurious Wyndham signature bath amenities.
The Wyndham Deerfield Beach Resort also features direct ocean and beach access, outdoor heated pool and hot tub, poolside dining and refreshments and nightly live entertainment at the popular Patio Bar and Grill all overlooking the shimmering Atlantic Ocean.
As stewards for the property for more than 40 years, the Chase family has a passion for the continued beautification of the area and has been committed to the growth and prosperity of Deerfield Beach.
"We believe in Deerfield Beach; in its beauty, its tradition and its future. We have a unique location in a unique community. Our fabulous new resort is our way of providing a boost to the region as a whole. We are proud to be leaders within the wider effort to revitalize this wonderful oceanfront location and local landmark," said Cheryl Chase, a principal of Deerfield 21 Corporation.
"Deerfield Beach is an ideal location for business and leisure travelers looking for a relaxing getaway and upscale accommodations. The Wyndham Deerfield Beach Resort will provide guests the deluxe resort experience they have come to expect from the Wyndham brand and we are proud to welcome this outstanding hotel to the Wyndham family," added Jeff Wagoner, president of Wyndham Hotels and Resorts.
"We know modern-day travelers are extremely price-sensitive, but more importantly, they do not want to compromise on quality. That's why we've transformed and upgraded the property to bring exceptional new views and value to an incredible location," continued Chase.
Hotel guests have access to a 24-hour business center as well as a 24-hour health and fitness center with state-of-the-art Cybex cardio equipment. Additional services include valet parking, concierge services and on-site market for convenience items, magazines and snacks.
It's not just individuals, couples, families and business travelers that can expect to take advantage of all the upgrades and enhancements on property. The Wyndham Deerfield Beach Resort now offers full banquet facilities for weddings, celebrations and corporate functions.
The Wyndham Deerfield Beach Resort provides more than 4,300 square feet of flexible indoor and outdoor meeting and event space for business functions, weddings and events. The space includes the 3,250-square-foot Royal Palm Ballroom that can accommodate up to 215 people. An on-site catering staff coordinates food and beverage service. Advanced technology and audiovisual equipment is available.
"We already have a loyal customer base across the United States, including here in Florida with many guests coming from only a few minutes away to enjoy a stay-cation with us. We've always had a great relationship with guests of all ages who are looking to take advantage of the region's most pristine beach and who appreciate the exceptional level of service our staff provides," said Julian Felder, General Manager of the Wyndham Deerfield Beach Resort.
"Along Florida's East Coast, discriminating travelers are seeking a property with a unique blend of amenities and location that's right on the ocean. Not only do we offer these features, but we do it at an outstanding value," added Felder.
For more information contact the Wyndham Deerfield Beach Resort at (954) 428-850 or visit the web at http://www.wyndhamdeerfieldresort.com .
About Deerfield 21 Corporation,
Deerfield 21 Corporation is an affiliate of Chase Enterprises. Chase Enterprises is a multi-faceted investment firm and leader in commercial and residential real estate and hotel development. Chase Enterprises' commercial developments include Leisure Resorts LLC's Palm Harbor Marina, a 200-slip marina located in West Palm Beach, Fla.
About Wyndham Hotels and Resorts
Wyndham Hotels and Resorts, LLC, a subsidiary of Wyndham Worldwide Corporation, offers upscale hotel and resort accommodations throughout the United States, Europe, Canada, Mexico, China and the Caribbean. All Wyndham® hotels are either franchised by the company or managed by Wyndham Hotel Management, Inc., one of its affiliates or through a joint-venture partner. Additional information and reservations for all Wyndham hotels are available by calling (800) WYNDHAM – (800) 996-3426 – or visiting http://www.wyndham.com.
###