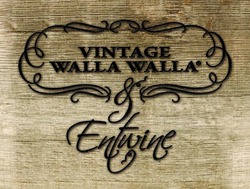 Walla Walla, WA (PRWEB) March 30, 2011
Vintage Walla Walla® & Entwine Grand Auction, two previously extraordinary events in their own right, have joined forces to create a single powerhouse wine weekend - a grand celebration featuring the best of the Walla Walla Valley's wine, food, art and lifestyle. Taking place June 16-18, 2011, One Wine Weekend will also introduce new elements including online bidding and Barrel Art @ the Wineries, interpreted works of art from wine barrels by five fabulous local artists that will be auctioned off to five lucky bidders during the Entwine Grand Auction event on Saturday June 18. Tickets are available for individual events or for a weekend package. They range in price from $100 for an intimate winemaker dinner to $300 for a weekend package that includes both Vintage Pour events, Vintage BBQ and Entwine Grand Auction.
SCHEDULE OF EVENTS
May 5-6: Barrel Art @ the Wineries Walla Walla
Get a sneak peek of the barrel art onsite at their host wineries during Walla Walla's Spring Release Weekend. The barrel artists will be onsite at their host wineries on Saturday, May 7th
May 20-22: Barrel Art @ the Wineries Woodinville
Can't make Spring Release weekend in Walla Walla? Never fear, the barrels are going on tour to Woodinville.
June 16: Walla Walla Winemaker Dinners
Choose from 10 extraordinary wineries and settings from dinner in the vineyard at Woodward Canyon with pizzas made by Rick Small in his wood-fired oven to a multi-course elegant dinner prepared by Executive Chef Ceil Blaine, live music and panoramic views of the Blue Mountains on the patio at Waterbrook.
June 16-18 : Downtown Walla Walla Walking Tour
Join the Walla Walla Downtown Foundation on an educational and fun walking tour. Explore the history of charming downtown Walla Walla, visit the Farmer's Market, the historic Marcus Whitman Hotel, downtown wineries and shops and more.
June 17: Vintage Walla Walla® Welcome BBQ
Discover which Walla Walla vintners are also master chefs with a knack for cooking lamb. The Welcome BBQ at Waters Winery features Master of the Grill VIKING Grill Off Competition, 30+ Wineries and live music by The Dusty 45s.
June 17 & 18: Vintage Pour Receptions
The signature event of Vintage Walla Walla®, the Vintage Pour Receptions offer weekend guests the rare opportunity to taste vintage wines from winery cellars and private collections.
June 18: Entwine Grand Auction and Dinner
The culminating event of the first ever One Wine Weekend. Featuring Auctioneer John Curley, incredible auction lots (including the Barrel Art), wines, dinner, and music from the renowned Walla Walla Chamber Music Festival.
For additional event information please go to http://www.ONEWINEWEEKEND.COM or call 509-526-3117.
About Entwine
Entwine began in 2003 as a benefit dinner and fundraiser celebrating the grand opening of the new Center for Enology and Viticulture in Walla Walla, WA. In 2004 it was named "Entwine" representing the collaboration between fine wine, fine food and fine art in the Walla Walla Valley.
Entwine is a gala event featuring the best wine, food and art from the Walla Walla Valley and surrounding areas. The evening is one of celebration, beginning with a reception and silent auction, followed by a formal dinner and live auction. Our Raise-the-Paddle raises scholarship dollars specifically for Walla Walla Community College's Enology & Viticulture, Culinary Arts and Art students. The event has raised over $2.0 million since its inception.
A premier partnership event between the Walla Walla Community College Foundation, Walla Walla Valley Wine Alliance (WWVWA) and ArtWalla, Entwine attracts donors and attendees from across the country.
About Vintage
Vintage Walla Walla®, a Walla Walla Valley Wine Alliance (WWVWA) event, celebrates the wineries of the Walla Walla Valley and features wines of the present as well as gems from the past that the Valley's winemakers have pulled from their libraries and private collections.
The event has expanded over the years to include a Barbecue Under the Stars and private Winemaker Dinners. A special event, the VIKING Grill-Off, was added in 2010 and features five local wineries vying for the title of Master of the Grill.
A truly unique experience, Vintage Walla Walla® has attracted guests from across the country to experience the rare opportunity to taste library wines while mingling with winemakers. 2011 marks the 9th annual Vintage Walla Walla®.
###