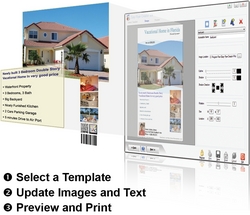 Easy Flyer Creator 3.0 would be compatible with Windows based Desktop Computers, Laptops, Netbooks, Tablet PCs and similar Devices with Intel® Atom Processors
(PRWEB) March 31, 2011
Peridot Technologies, today announced the next release of Easy Flyer Creator 2.0 will be coming in May 2011. With added features and options Easy Flyer Creator 3.0 will be one of the most advanced and professional Desktop Publishing Software for making business flyers, leaflets, brochures, certificates, coupons, tickets and mail merge documents from customizable templates. Easy Flyer Creator 3.0 is developed and optimized using state of the art technologies like .Net , Intel® Power Checker and Intel® Concurrency Checker. Easy Flyer Creator runs on Laptops, Netbooks and Tablet PCs while utilizing less power and less CPU resources.
Easy Flyer Creator 3.0 may be one of the most easy to use desktop publishing software for basic level computer users, requiring only basic computer skills. With this easy to use software users simply select a template from its professional and eye-catching flyer templates library. Then update images and text in the flyer page and finally print the document. The user can also save their work as new templates for further editing in the future.
As for advanced computer users such as professional desktop publishers and graphics designers, this desktop publishing application offers some advanced desktop publishing options like image cropping, Image Filters, image masking, page backgrounds, customizing templates, adding Google maps, adding barcodes including QR Codes and Microsoft Tags, adding Charts, creating tickets with incrementing ticket numbers, creating mail merge documents by pulling data from various databases and much more.
What's New in Easy Flyer Creator 3.0:

Transparent Images Support
More Image Enhancement Options
Adding Google maps to the document
Add Barcodes, QR Codes or Microsoft Tag
Creating Tickets by adding unique/incrementing ticket numbers on each of the document
Mail merge by connecting to various databases
Adding charts
And more options like downloading and uploading more templates and designs from or to its marketplace will be announced soon.
Price for Easy Flyer Creator 3.0 is still to be decided by the company, but the good NEWS for existing Easy Flyer Creator 2.0 users is that, all of them are going to get free downloadable upgrade to version 3.0 in May 2011
Customers experiences with Easy Flyer Creator 2.0:
"Great program, easy to use and you don't have to be a rocket scientist to figure it out. Program does what it says it does and you can save your work in any format you can possibly use. I do real estate and this program has already paid for itself." -- Charles Ammacher (North Carolina Dream Land LLC)
"This software is a breeze to use. It gives you terrific flexibility and professional results quickly. Customer service has been prompt, generous and very helpful. Highly recommend it." -- Dr. Jim Goldstein (Powerful Partnerships)
"This is a professional flyer maker. We already have seen a better response to the flashy flyers were able to create on our own. Before this we spent a ton of money to pay Photoshop savvy overcharging people. Or used word which obviously sucks. We are a nonprofit so we need people to get excited and want to do see service. A good flyer will generate that! Thank you! Peridot Technologies" -- Ben Schwelling
"I am extremely impressed with Easy Flyer Creator. It is just as they say easy as 1-2-3 but as good as the program is I have to make a mention of the After Sales Support. It is the best I have ever come across and nothing is too much for them. I am totally impressed by your work Peridot Technologies" - Christopher Valladares
After achieving great success in medium and large business sectors, the company decided to expand its software product's market to small businesses and home users by making Easy Flyer Creator available on most of the retail websites like Amazon.com, Buy.com and computer retail stores like Micro Center etc.
Easy Flyer Creator 2.0 is currently available online at http://www.flyerscreator.com and all of the Micro Center Retail Stores http://microcenter.com/single_product_results.phtml?product_id=0330284 for less than $40 and users can also download free updates and new templates from its website.
Product presentations, videos and tutorials are also available at http://www.flyerscreator.com/FlyerVideos.aspx to further help users to get their first desktop publishing job done faster.
Netbook and Tablet PC Users can download free trial and buy license from AppUp Store http://www.appup.com/applications/applications-Easy+Flyer+Creator
Special deals, offers, discounts, events information, program updates are also frequently posted to its Facebook Fans and Twitter Followers
To learn more about Easy Flyer Creator and our other software products feel free to contact us any time
About Peridot Technologies NY Inc.
A leading software development company, providing software solutions in various fields and industry. Working on the model of offshore software development with local presence, which ensures less project cost and in best possible quality.
More about our company at http://www.peridotec.com
# # #