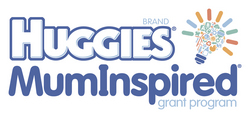 The Huggies MumInspired Grant Program is a great way to bring out the untapped entrepreneurial spirit from our Aussie Mums
(PRWEB) March 31, 2011
Mum Justine Clarke joins Kimberly-Clark Australia to launch the Huggies® MumInspired® Grant Program, providing more than $100k business funding to help mum's baby and child care ideas become a reality.
70% of Australian women have thought more about pursuing a business idea since becoming a mother, according to Australian mothers surveyed in the Huggies® MumInspired® report.
Currently women make up 33% of small business owners and the number is steadily climbing, which is fuelled by the growth of women starting their own business after having children, otherwise known as 'mumpreneurs'.
The Huggies MumInspired Report reveals mums who work outside the home may look to self-employment because they want to do something they love. Yet, the Report also highlights several barriers preventing mums from turning their ideas into a reality. The most significant barriers are; limited access to finance (62%), increased living expenses (54%) and a fear of failure (40%).
In response to the report, Huggies Australia today announces the launch of the MumInspired Grant Program, which will award a total of $110,000 (five mums each to receive $20,000) to help mothers act upon their child-related business idea. In addition there will also be a People's Choice Award, which will enable the public to vote for their favourite MumInspired grant recipient to receive an additional $10,000.
With the trend of 'mumpreneurs' rising in Australia, Huggies wanted to provide a genuine opportunity to help Australian mums act upon their entrepreneurial ideas, whilst balancing work and family life.
"Our survey has shown that four in five mums see the biggest benefit of self-employment is having increased flexibility to spend more time with their children. We are going to help five Australian mums make their business dreams a reality, with submissions opening on 15th March for business start up grants," said Alison Holland, General Manager Baby and Child Care for Kimberly-Clark Australia.
Justine Clarke may be well-known for her performances in the award winning film LOOK BOTH WAYS, TV series TANGLE, as well as her time on Playschool, but her most important role is mum. With three young children at home, Clarke knows first-hand what it means to balance career and home life and hopes to encourage mums to see their business ambitions become a reality.
"The Huggies MumInspired Grant Program is a great way to bring out the untapped entrepreneurial spirit from our Aussie Mums. And, this initiative helps create a network of support for mums who work inside and outside the home, which is such an important part of inspiring great ideas and brining them to life," said Justine Clarke.
Submissions for the Huggies MumInspired campaign are open from 15th March 2011 until 1st May 2011. Mums are encouraged to submit grant applications with ideas that focus on nurturing the relationship between mother and child, and be aimed at mums with bubs aged 0-4. Five winners will be chosen and awarded a grant of $20,000. In addition there will also be a People's Choice Award, which will enable the public to vote for their favourite MumInspired grant recipient to receive an additional $10,000.
In order to be considered for a grant, mums can submit an application online on the MumInspired website. The MumInspired website also includes useful resources for mums in business, including articles such as how to write a business plan. For regular MumInspired updates, please 'like' the Huggies Australia Facebook Page.
1. Huggies MumInspired Report was conducted by Lonergan Research and commissioned by HUGGIES® Australia. The study was conducted from 8 December -14 December 2010 among 1,027 Australian mothers aged 18-49 years with children 5 years old or younger.
2. Australian Bureau of Statistics
® Registered Trademark Kimberly-Clark Worldwide, Inc.
About Kimberly-Clark Australia

Kimberly-Clark is a global leader in "Essentials for a better life" in Consumer, B2B and Health Care markets.
Kimberly-Clark Australia (KCA) is headquartered at Milsons Point, Sydney NSW.
The company markets leading brands including KLEENEX® products, HUGGIES® products, the KOTEX®, POISE® DEPEND® ranges, and VIVA® paper towel.
Kimberly-Clark Professional and Kimberly-Clark Health Care represent the company's B2B businesses.
KCA employs over 1650 employees in Australia and operations include:
o Millicent & Tantanoola Mills: Kleenex® Tissue and Viva® Products
o Albury Mill: Nonwoven products, eg used in Huggies® Nappies
o Ingleburn Mill: Huggies® Nappies
o Distribution centres and sales offices in major capital centres

About Huggies
The Australian Nappy market is currently worth over $432m per annum. Huggies® Nappies are the No.1 Market leader with value market share of over 65%. (Source: Aztec National combined excluding Aldi. MAT to Nov 2010).
About MumInspired
This program has already been successfully launched in the US with 12 recipients each receiving $15,000 USD in grant funding.
###