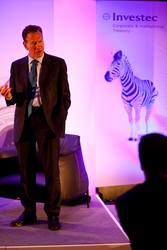 The Budget was clearly directed towards business with the intention of shoring up support from the market towards the Government's strategy and it appears to be well received - Michael Portillo
(PRWeb UK) March 31, 2011
Just over half (53%) of senior executives feel satisfied that the Budget has done enough to enable British businesses to grow over the next 12 months, according to a survey1 of attendees at a business seminar hosted by Investec Corporate and Institutional Treasury ('Investec'), part of Investec Bank plc.
While nearly a quarter (23%) of executives surveyed feel more confident about the future prospects for their business as a result of the Budget, the majority (74%) see no reason to change their view despite doubling the cut in corporation tax to 2%.
Furthermore, reflecting an indifferent attitude towards the Budget, only 13% said that they would increase their workforces over the next 12 months. A quarter (27%) of executives feel the Budget boosted the private sector's ability to grow sufficiently to absorb the impact of public sector cuts. Just 10% of those surveyed think that the budget has done something to reduce red tape for employers.
Speaking at the Investec event, Michael Portillo, former Chief Secretary to the Treasury and Secretary of State for Defence said: "The Budget was clearly directed towards business with the intention of shoring up support from the market towards the Government's strategy and it appears to be well received. However, growth figures for 2011/12 were disappointing and inflation figures pose problems for future levels of public spending. Higher growth forecasts for 2014 should be taken with a pinch of salt and it looks as though we will be facing several years of sluggish growth. The Coalition must be wary about how good a picture it will be able to present to voters in 2015."
From the pro-business measures announced on Wednesday, executives rated the 2% reduction in corporation tax cut as being the most effective initiative followed by the promise to strip out £350 million of business regulation. In third place was increasing the EIS qualifying company limits to 250 employees and gross assets of £315 million.
An overwhelming majority (84%) of the executives surveyed said that their business has prepared itself for the prospect of future interest rate rises and in response to volatility in global foreign exchange markets, a quarter (26%) are making greater use of FX options against only 3% who have reduced their use. However, a further 26% said that their business had never used FX option products before.
Philip Shaw, Chief Economist, Investec said, "We are clearly in uncertain times and while the most likely path for the UK economy is one of moderate growth, there are clear downside risks posed by the possibility of further increases in oil prices, should tensions in the Middle East and North Africa escalate. Recent events in Portugal have highlighted that the sovereign debt crisis in the Euro area has some way to run which could still put pressure on the Euro over the medium-term."
James Arnold, Investec Corporate & Institutional Treasury said, "Corporates appear to have given the Chancellor's Budget their cautious support but remain sceptical in a number of areas. Time will tell whether growth in the private sector will be strong enough to generate real momentum behind the recovery.
"While it is encouraging that most businesses have prepared themselves for the prospect of interest rate rises, too many are still failing to take basic steps to protect themselves against volatility in FX markets.
"Companies need to adopt formal FX hedging strategies. Indeed, many of our clients are demanding more sophisticated methods to manage their FX risk. We offer a diverse range of tailored hedging solutions to companies that have previously only been offered the most basic FX products and services by their bank and non-bank brokers."
Investec Corporate & Institutional Treasury provide bespoke products and solutions which are typically reserved by other banks for their larger clients but are still appropriate for businesses of all sizes to take advantage of and understand. These are combined with the level of service and client relationship for which Investec is well renowned.
Investec Bank plc is a subsidiary of the Investec group which is an international specialist bank and asset manager http://www.investec.com/infocus.
1. 100 senior executives from a range of UK businesses were surveyed at a business seminar on 24 March 2011. The majority of those senior executives were CEO's, CFO's, FD's and Directors; the average turnover of those companies in attendance was £128.5m.
###