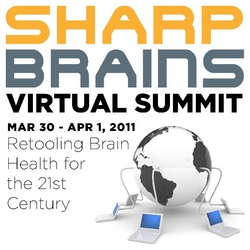 "Staying sharp mentally is one of the top interests of AARP Members, who collectively represent about 37% of the 50+ population in the USA..." says Nigel Smith, AARP Innovation Director and Summit Speaker
Washington, DC (PRWEB) March 30, 2011
The second annual virtual SharpBrains Summit: Retooling Brain Health for the 21st Century, will be held March 30th –April 1st. This year's summit will showcase innovations in research labs, educational and healthcare practice and policy forums as well as innovations by insurers and fitness companies.
"Staying sharp mentally is one of the top interests of AARP Members, who collectively represent about 37% of the 50+ population in the USA. Given the breadth and diversity of the 50+ population, we need innovative ways of translating the continuously evolving science into individually relevant, value-creating solutions," says Nigel Smith, AARP Innovation Director and Summit Speaker.
"We need to de-medicalize cognition. To be sure, dementia and Alzheimer 's disease are medical issues, but typical cognitive aging is not a strictly medical issue," adds Dr. Kenneth Kosik, CO-Director of UC Santa Barbara Neuroscience Research Institute. "We're talking how to enhance and maintain normal abilities across the lifespan."
It's no surprise that consumer demand for brain fitness is on the rise. A recent AARP survey of 38,000 adults over 50 found that their number one concern was staying mentally sharp. This concern is fueling consumer interest so much that analysts predict the non-invasive brain health industry will exceed $2 billion worldwide in 2015.
At the same time consumer demand is growing so are innovations and research building on neuroplasticity and cognitive reserve. "We know that non-invasive options can be effective and efficient at maintaining overall brain health and enhancing targeted brain functions," said Alvaro Fernandez, the Producer of SharpBrains Summit, and summit speaker . "The question right now is how to take advantage of emerging options in a way that benefits healthy individuals who want to do more to maintain performance but don't know where to start. We need to help consumers and professionals distinguish wheat from chaff."
Well over 200 people will attend the conference which features more than 36 speakers from prominent institutions such as the National Institute on Aging, Harvard Medical School and AARP. To register, go to: http://www.sharpbrains.com/summit/register/
The SharpBrains Summit is produced by SharpBrains, the world's leading independent market research firm dedicated to providing independent information and guidance in the burgeoning cognitive fitness market, and co-sponsored by Intel Corporation, brain research labs, professional associations and industry groups.
About SharpBrains: Sharp­Brains is a market research firm and think tank devoted to helping organizations, professionals and consumers navigate the brain health field. In 2009, the firm released its flag­ship report The State of the Brain Fitness Market 2010, for decision makers, and the consumer guide The Sharp­Brains Guide to Brain Fitness, for everyone with a brain. Sharp­Brains mission is to provide independent, research-based, information and guidance to navigate the growing cognitive and brain fitness market.
For more information go to: 2011 SharpBrains Summit Info(http://www.sharpbrains.com/summit/)
###