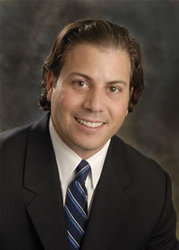 The laser removes as much of the tumor as possible without damaging critical structures that surround the tumor.
Great Neck, NY (PRWEB) March 31, 2011
Lee Eric Tessler, MD, a neurosurgeon specializing in the treatment of brain tumors, is among the first in metro New York to use a new advanced, hand-held CO2 (carbon dioxide) laser for surgeries on certain types of tumors that are buried deep within the base of the skull. The laser allows surgeons to remove these difficult-to-reach tumors in less time, with lower risk of complications, less anesthesia and a smaller possibility of damage to surrounding healthy brain and nerve tissue.
"Until the advent of this laser, there was not an ideal way to remove these tumors because of their location and composition," says Dr. Tessler. "The laser makes it easier for the surgeon, and this ultimately benefits the patient, who can generally expect better outcomes."
The new laser increases the likelihood that the surgeon will be able to remove all of the tumor without causing damage to surrounding brain structures.
Dr. Tessler is using the laser with all patients who have skull-base meningiomas or acoustic neuromas, slow growing tumors that are not always removed because they are not usually life threatening and because of the difficulty in operating on them. These tumors are very fibrous, says Dr. Tessler, which means that they can stick to brain and nerve tissue. This can make them more difficult to remove completely, and can increase the risk of damage to surrounding tissue. The laser cuts on a microscopic level, allowing for more precise excision.
While these tumors are generally benign, they can have a debilitating impact on one's quality of life and can cause severe disability. As they grow, they compress sensitive areas of the brain, spinal cord, multiple nerves and major blood vessels in the skull base. They often grow to a point where they affect functional abilities, at which time they should be removed.
Other methods for removing or debulking these tumors – none of them ideal – include cauterization, suction, and use of traditional scalpels. The new CO2 laser, known as the BeamPath™ and made by OmniGuide® from technology developed at MIT, is superior to these methods because it decreases operating time and risk of collateral damage.
Enabling surgeons to control penetration depth, CO2 lasers have always been the safest and most accurate of all surgical lasers. Water in cells absorbs CO2 laser energy more quickly and fully than other types of laser energy, causing less trauma.
Earlier CO2 lasers had limited use in procedures in which direct viewing of the surgical area was required. Equipment was large and unwieldy, and impractical to use in neurosurgery. The new BeamPath system directs CO2 energy through a flexible hand-held fiber optic tube that surgeons can manipulate in areas that were previously hard to reach.
"This is a major advance," says Dr. Tessler. "The laser removes as much of the tumor as possible without damaging critical structures that surround the tumor. It also removes debris from the surgical field and cauterizes surrounding blood vessels as it works, while reducing risk of damage from heat disbursement."
Dr. Tessler is an associate of Neurological Surgery, P.C., one of the Northeast's largest and most comprehensive multiple-subspecialty neurosurgery private practices. He performs most of these surgeries at the Institute for Neurosciences, Winthrop University Hospital, Mineola, NY.
"It is important to note that this new surgical option is available right on Long Island," he says. "Patients can stay in the community and be assured that their surgery is done using the most advanced technology available."
About Neurological Surgery, P.C.
Neurological Surgery, P.C. is one of the New York City area's premier neurosurgical groups, offering patients the most advanced treatments of brain and spine disorders. These include minimally invasive procedures such as stereotactic radiosurgery (Gamma Knife® and CyberKnife®), aneurysm coiling, neuro-endoscopy, spinal stimulators, carotid stents, interventional pain management, microdiscectomy, kyphoplasty, and X-STOP®. The practice's physicians represent a range of surgical and nonsurgical specialties, combining compassionate care with highly specialized training. They are leaders in the region's medical community, with appointments as chiefs of neurosurgery in some of Long Island's best hospitals. NSPC offers eight convenient locations in Queens, Nassau and Suffolk Counties. For more information, call 1-800-775-7784 or visit http://www.NSPC.com.
###