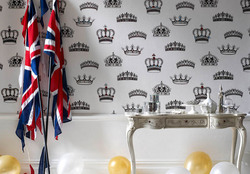 (PRWEB) March 31, 2011
Modern wallpaper retailer, Graham & Brown plan to celebrate Prince William's upcoming Royal Wedding to Catherine Middleton with an exclusive 20% off Royal Wedding Promotion featuring a grouping of lavish home décor products.
The Royal Wedding Promotion pays tribute to the wedding celebration with exquisite combinations of designer wallpaper collections, paint collections and chic wall art. Graham & Brown's exclusive Crowns & Coronets wallpaper pattern is the essence of lavish-regal décor and is the heart of the Royal Wedding Promotion.
Featuring black crowns and coronets on a white background, the luxurious Crowns & Coronets wallpaper design features the ability to be completely interactive. Glittering self-adhesive 'Royal' jewels in various colors and designs offer the finishing touches to the wallpaper and allow you to customize the design. Sure to become the crowing jewels of your room these exclusive to Graham & Brown glittering jewels complete the look effortlessly.
For a royal pairing with the Crowns & Coronets wallpaper, Graham & Brown suggests several regal interior paint colors from their 'The Colours that Made Britain Great' collection. These include 'Princess to Be', 'Jewel in the Crown' and 'Cool Britannia'. Each paint color perfectly complements the Crowns & Coronets design creating a match almost as perfect as Prince William and Catherine.
Graham & Brown's Royal Wedding Promotion provides customers the opportunity to celebrate the forthcoming Royal Wedding by designing their very own regal palace. For more information on Graham & Brown's promotion, visit http://www.grahambrown.com/us/Royal-Wedding-Promotion.
# # #