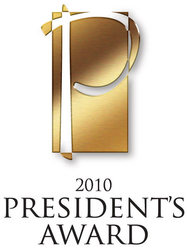 The team members of Chapman Honda Tucson have proven their dedication to their customers by achieving the rigorous standards established for this award
Tucson, AZ (PRWEB) March 31, 2011
American Honda Motor Co., Inc. announced Chapman Honda Tucson as a recipient of the President's Award for 2010. This annual award is presented to top-ranking Honda dealerships across the country, based on their achievement of excellence in all areas of operation – customer service and satisfaction, sales, training, and facility. This is Honda's highest dealership honor, and this is the first year Chapman Honda Tucson earned prestigious award.
More than 1,000 Honda automobile dealerships participated in the President's Award program, with 118 earning top honors for 2010. The program objectives are revised annually to address the current market environment and to encourage dealerships to continually strive to achieve higher levels of customer satisfaction.
"Since its inception in 1995, the President's Award has been recognizing top dealers who are unwavering in their pursuit of excellence and customer care. The team members of Chapman Honda Tucson have proven their dedication to their customers by achieving the rigorous standards established for this award," said John Mendel, executive vice president of Automobile Sales for Honda. "We are extremely proud of their accomplishments and invite you to experience for yourself the advantage of doing business with an award-winning Honda dealership."
"It's indeed an honor to be included in the exclusive list of Arizona Honda dealers in the state of Arizona who can claim that they are President's Award Winners. Our team placed such a high value on reaching our goal this year, and we'll continue to be the best that we can possibly be," said Neb Yonas, General Manager Chapman Honda.
Chapman Honda Tucson carries the full line of Honda vehicles, including the all-new Honda Odyssey and the revolutionary CR-Z Sport Hybrid, along with four alternative-fuel vehicles – the Civic Hybrid sedan, the Civic GX NGV (natural-gas vehicle). The dealership also inventories an abundance of used Honda cars, trucks, minivans, and SUVs to fit any budget. For more information on these and all of Honda's award-winning vehicles, visit http://www.chapmanhonda.com.
###