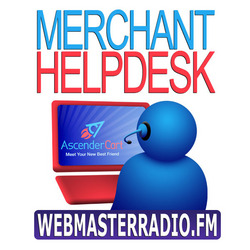 Small businesses of any type need assistance in growing their business and business incubators provide great starting points
Fort Lauderdale, Florida (PRWEB) March 31, 2011
WebmasterRadio.FM is proud to premiere a new monthly radio series geared to give listeners the opportunity to absorb advanced knowledge in SEO for ecommerce, legal issues, PCI compliance, and many more issues vitally important to your online success.
"Merchant Help Desk" is hosted by online marketing veteran Lee Roberts, who worked with the World Wide Web Consortium in the development of Web Content Accessibility Guidelines and HTML 5. He is the founder of the show's presenting sponsor, Ascendercart.com.
On the premiere episode set for Thursday March 31st, Lee will speak with Don Wood, the Director of the Norman, Oklahoma Economic Development Coalition about business incubators.
"Small businesses of any type need assistance in growing their business and business incubators provide great starting points," said Roberts.
Don will take us through how he was able to construct a business incubator called the Emerging Technology Entrepreneurial Center, connecting the University of Oklahoma, the City of Norman, Oklahoma and the city's Chamber of Commerce. We will also discover how this business incubator has resulted in the development of a business park, a significant increase in drawing major employers to town and continued growth of existing businesses.
Listeners are able to interact with their questions and comments to the host and guests for each interview, as well as all live WebmasterRadio.FM programming, by:

New Episodes of Merchant Help Desk air Thursdays at Noon Eastern / 9am Pacific on http://www.WebmasterRadio.FM. Episodes are archived on WebmasterRadio.FM, as well as on iTunes and other premier podcast portals.
About WebmasterRadio.FM
WebmasterRadio.FM lifts the "veiled curtain" of the Internet, bringing the business community together through an interactive radio network. Its listeners are a global group, comprised of everyone from corporate executives and decision makers to small and mid-sized businesses and individual entrepreneurs. WebmasterRadio.FM's stellar line-up of radio programming includes; "Market Edge" with W2/Racepoint Group Chairman Larry Weber, "SEM Synergy" with Search Engine Marketing Industry Leader Bruce Clay and the "CyberLaw and Business Report with Internet Law Center Founder Bennet Kelley. To tune into WebmasterRadio.FM's live content or check out the show lineup, please visit http://www.WebmasterRadio.FM.
Media Contact:
Brandy Shapiro-Babin
954-309-5578
# # #