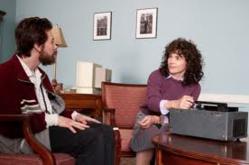 We're using music in ways to reach people on a deep, clinical level.
New York, NY (Vocus/PRWEB) March 19, 2011
"The Music Never Stopped," a new feature film based on the case study "The Last Hippie" by Dr. Oliver Sacks, M.D. ("Awakenings"), chronicles the journey of a father and son adjusting to a lifetime of missed opportunities and how music therapy helps restore the young man's memory, as well as his relationship with his family.
"The Music Never Stopped" tells the story of Henry Sawyer, (J.K. Simmons), a traditional, hard-working father who shares his passion for big band music with his young son, Gabriel. As Gabriel (Lou Taylor Pucci) grows into a young man, however, his musical tastes begin to shift towards the psychedelic rock of the late 1960s. With father and son on opposite sides of the musical and political spectrums, Gabriel disappears into the counterculture following a devastating confrontation with his father.
The film opens nearly two decades later, when Henry and his war bride wife, Helen (Cara Seymour) are told their son has been found wandering the streets of New York City. Gabriel has a brain tumor that has caused extensive brain damage and needs immediate surgery. When he recovers, he is in a near- catatonic state, and unable to recall or create any long-term memories. Effectively, Gabriel still thinks he is in 1968.
As Gabriel, in the 1980s, recovers from his surgery, his parents search for any way of communicating with their still "missing" son. Eventually, they find Dr. Dianne Daly, played by Julia Ormond. Dianne is based loosely upon Dr. Concetta Tomaino, who is featured in Dr. Sacks' original case study. Daly is one of the pioneers in the profession of music therapy, and she's made progress using musical and rhythmic exercises to help people damaged by brain disease or stroke to regain their mobility and voices.
A member and past president of the American Music Therapy Association, Dr. Tomaino is the Executive Director and Co-Founder of the Institute for Music and Neurologic Function, a member of the Beth Abraham Family of Health Services, located in the Bronx, NY. More information about her work can be found at the organization's website, http://www.imnf.org.
According to Dr. Tomaino, music therapy offers numerous evidence-based applications. "For example, with someone who has memory problems, particularly with Alzheimer's disease or dementia, we will use music of personal importance. Those emotions are then connected to deep memories that we can attempt to retrieve as they are exposed to that specific music," she revealed. "We also use rhythm to help people with movement disorders such as Parkinson's disease, or a stroke, to help people regain their ability to move, as well as a singing protocol that we use for people with strokes to help them regain the ability for speech. We're using music in ways to reach people on a deep, clinical level."
Continued Dr. Tomaino, "Something as a simple as a beat or rhythm can stimulate and coordinate movement. The more complex the sound stimuli are, the more neurological functions are activated. If you think of networks in the brain being excited one network at a time, the more complex the sound that is stimulating those networks, the more heightened the response."
Visit the official movie website at: http://themusicneverstopped-movie.com.
Learn more at http://musictherapy.org.
###