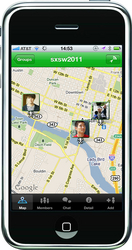 Check where your friends are
(PRWEB) March 14, 2011
Japan-based leading IT creative agency Kayac Inc. has released a new version of Nakamap, a free app for iPhone and Android handsets that provides realtime location sharing and group chat.
Create a group. A group can have up to 50 members, and there's no limit to the number of groups. Invite people to the group from your Facebook friends, Twitter followings, or from your address book using Email. You can also search from Nakamap users by their names and profile.
Nakamap added "Easy Add!" feature in this update. "Easy Add!" let's you find Nakamap users near you, to easily start a group chat with the person just besides you.
Share location real-time. No check-ins, Nakamap will use GPS when the app is foreground, and use mobile cell stations in the background for battery efficiency. You can turn on/off location sharing by each group, which lets you hide your location from your family while drinking with friends. Your location is a private information, it's not public to everyone, it's only shared within your groups members in only groups which you turned on location sharing.
Group chat includes photos, urls and text. Push notification to ring or vibrate group members phones to send chat real-time. Best of all, it is completely free.
What is the ideal situation to use Nakamap?

For planning parties and nights out, groups of friends can exchange messages about where to go. Or, for the more impulsive, if you spot a bunch of your friends nearby you can just decide to hit the town right then.
If friends run late you don't need to mail or phone them with updates when the group moves on. They can keep track in real time of where everyone else and go straight to the new bar or party location.
Out on a shopping trip you can split up and check out separate stores without any fuss or trouble when you decide to join back up, as well as share and compare pictures of clothes and products so you never feel apart.
When out with your friends or even by yourself you can instantly share photos taken on your phone with everyone, recording timeless moments for the whole group to enjoy right after they happen.
Students can stay connected even across big school or college campuses, seeing instantly who is free for lunch or joint study sessions.
Users can download Nakamap via the official website or from the iTunes Store.
The app is free to download now and compatible with iPhone3G, iPhone3GS, iPhone4 iOS3.1.3 and above, as well as Android OS1.6 and above.
This 1.4 version of Nakamap is being released as Kayac travels to Austin to introduce the app service at SXSW Interactive 2011.
Nakamap already has over 50,000 users mostly in Japan and Middle East, and rapidly growing. For last few days it is seeing huge traffic spikes, being used as a reliable communication medium. This is most possibly due to blackouts and paralyzed public transport in major cities, caused by recent earthquake in North-Eastern region of Japan.
To find out more, please visit: http://nakamap.com/.
About Kayac Inc.
Kayac Inc. is a Japanese web and IT agency that works in a unique and playful way. On top of high-profile client work it has also developed in-house a large portfolio of services and products, including online communities, art projects, food businesses and fun phone apps. Several of its games, available through major Japanese platforms such Mobage-town and GREE, have attracted millions of users.
###