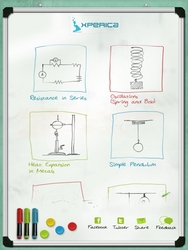 San Jose, CA (PRWEB) April 13, 2011
Xperica, the first app of its kind, launched globally as a teaching aid for teachers and students. The app debuted with a primary focus on physics experiments. However, it will feature other science fields periodically over time.
Xperica targets high school students who study various topics in science. The app, with a visually rich and interactive interface, allows users to virtually play with various elements, corresponding to the topics they're studying. The elements react in a similar fashion to what they would in the real world. Various adjustments can be made to see how the results change and the results are seen both visually and through measurement readings. Students can take on challenges within each experiment to test their understanding.
Xperica is a free app, which currently features four experiments with additional experiments available through the app interface. The experiments cover topics like the Archimedes Principle, Pulleys, Resistance, Oscillation, Projectile Motion and more.
The iPad is gradually entering classrooms as many schools are conducting trials in the usability of the iPad as a learning tool. With apps like Xperica, IL&FS Education hopes to give students an interesting and innovative learning environment.
IL&FS Education takes care to provide timely customer support with tools and processes within the organization. Xperica features a feedback function, which allows users to reach out for support and, also, to submit suggestions. All requests are directed to the support staff for timely feedback. In addition, Xperica.com will launch as an accompanying website to provide further support and information for the app. The app is also social with connectivity to Facebook and Twitter, allowing users to share their experience with their network.
Future apps from IL&FS Education include additional experiments to the Xperica repertoire and importing it to other handheld platforms.
Xperica is now available in English on iPads running iOS 3.0 or higher and all iPad 2 devices, it uses less than 10 MB of space.
Press kit available : http://www.xperica.com/xperica_presskit.zip
iTunes Link : http://itunes.apple.com/us/app/xperica-hd/id417221081?mt=8&ls=1
About IL&FS Education & Technology Services Limited
IL&FS Education & Technology Services Limited (IL&FS Education) is the Education Technology and Training arm of Infrastructure Leasing & Financial Services (IL&FS) a pioneer in the development of physical and social infrastructure projects in Public Private Partnership formats. One of the pioneers in Technology enabled Learning in India; IL&FS Education focuses on building human capital of the country through interventions in the areas of: School Education, Teacher Development, Vocational Education and Professional Training.
# # #