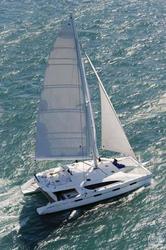 "We want to make the yachting vacation experience accessible to a broader market".
Alpharetta, GA (PRWEB) April 5, 2011
2BySea Inc. launches its penny auction bidding platform for luxury vacations on charter yachts world wide. Sailing the Caribbean, Mediterranean or the Pacific has now become affordable and exciting. Members can bid on the open weeks fof luxury yachts around the world at a fraction of the cost.
One of the great advantages of charter yacht vacations, besides the fact that members are on a yacht in some of the most exotic locations globally, is they don't have to lift a finger! Each charter yacht has a captain, and a chef who will prepare gourmet meals of your choosing. Yachts participating in the auction range in size from 45 feet to 84 feet. Winning bidders must purchase Bid Packs and cover the airfare cost to the departing port. (gratuities are not included for captain and chef).
Membership is free, to participate in a live auction members buy bid packs which range in price from $100 to $500. $100.00 bid packs=100 bids. Auctions start at zero and grow by penny increments. Once the auction clock runs down to the last 15 seconds, each incoming bid after that point resets the clock to 15 seconds. When the clock runs out, the last bidder wins. The winner of the auction has only spent what he has used out of his Bid Pack account.
Boaters and charter yacht owners are excited about the launch of 2BySea auction bidding process. Exposing the charter yacht vacation experience to a larger audience has been a challenge. Participants win one of the participating yachts for a fraction of the price, find a week that works for them and six of their closest friends, "What better way is there to introduce this vacation experience," explains V.P. of Marketing Barry Hawkins. "The Auction experience works in real estate, electronics, cars why not luxury charter yachts?"
According to its Chief Executive Officer Dan Draper, "We want to make the yachting vacation experience accessible to a broader market." It's the ultimate way to travel. Buying a $100 Bid Pack with the chance of winning the highest bid as the clock runs out makes the process fun and accessible to everyone. Our yacht owner members who offer their yachts for charter love the idea of having an additional avenue to fill open time.
# # #