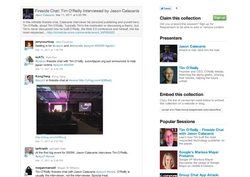 The collections are a great way to present the content, and they will be a great demonstration of the power of the curation platform we provide.
Austin, TX (PRWEB) April 12, 2011
Keepstream, a tool for saving social media content and embedding it into websites, today announced the launch of an unofficial SXSW session archive page at http://sxsw.keepstream.com. The site showcases curated collections of tweets, photos, and other social media from over 150 SXSW Interactive sessions, parties, and workshops.
In only five days, the whirlwind of over nineteen thousand attendees at Interactive 2011 generated millions of unfiltered, uncategorized tweets. By the nature of the Twitter platform, nearly all those conversations will quickly disappear - and many already have - if they are not archived and saved. Keepstream has been hand-picking all the best tweets from the most popular panels to archive in order to preserve the most important discussions.
Keepstream is a manual archival tool for social media. Tweets, Facebook posts, and web site links get saved into shareable, embeddable "collection" web pages. For small brands, it's the best way to archive press mentions and twitter buzz. For bloggers, it's the ideal method to collect twitter conversations and pics, and embed them into a blog post. For the rest of us, it's a great way to organize your favorite tweets into buckets to find and share later.
The goal is clear - slice through the noise of SXSW by preserving the most compelling Twitter content. The portal is organized by day, time, and topic to help people during SXSW and way after to be able to quickly find the panels and conversations that interest them.
"Panelists will see these archives and want to share them with their followers," notes Jim England, Keepstream co-founder and CEO. "The collections are a great way to present the content, and they will be a great demonstration of the power of the curation platform we provide."
Panelists can add to and edit their panel's collection if they would like by 'claiming it' from the collection page.
It's not just about archiving the content, but it's also about handpicking the best content. That's why Keepstream's curation team focuses on original, insightful tweets - the best stimuli for conversation, and the most interesting content to read.
Austin-based Keepstream was started in May 2010, as one of five companies selected from a pool of several hundred for the Capital Factory business accelerator program.
Supporting Materials:

Connect with us on:
About Tim Gasper
Tim Gasper is a Co-founder at Keepstream, a social media curation community. Tim leads business development, marketing, and community engagement efforts. He was previously Product Evangelist at Hyland Software, a business software company. Tim graduated from Case Western Reserve University with degrees in Economics and Management with a Marketing focus.
About Keepstream
Social media is extremely fleeting. We engage in hashtag chats and conferences, we see great industry news and tips, we experience breaking news and links, and we share fun quotes and pics. But it's nearly impossible to save the best related content and conversations in a cohesive, shareable way. Keepstream provides a free social media curation tool for archiving and organizing tweets, Facebook posts, and website links.
The real power though comes from gaining insights on that content and redistributing that content elsewhere. That's why Keepstream provides a widget for website content integrations, and is currently developing powerful reporting and analytics features.
The tool is particularly aimed at marketers, PR professionals, and social media managers in small-medium size businesses as well as small companies with a DIY approach to social media. They can't afford massive software packages to archive, analyze, and redistribute social content, but a freemium product like Keepstream is a perfect fit.
Keepstream was founded May 2010 as part of Capital Factory, the Austin, Texas business accelerator program. The Keepstream team members are all Case Western Reserve University alumni, and originally met at Startup Weekend in 2008. Keepstream is in public beta and is looking for investors.
CONTACT: Tim Gasper, Co-founder of Keepstream, 1-440-364-5328, tgasper(at)gmail(dot)com, @timgasper
###