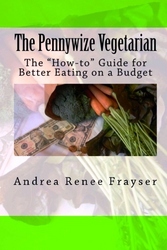 "Discover the Secrets One Mother Uses to Feed Her Family of 6, Breakfast, Lunch, Dinner and Snacks for $100 a week"
Hagerstown, MD (PRWEB) April 12, 2011
The Pennywize Vegetarian- The "How-to" Guide to Better Eating on a Budget takes the apprehension out of healthy eating and puts the flavor in with nearly 100 effortless money saving recipes. Written by Andrea Renee Frayser, an internationally recognized vegan product formulator, and noted natural wellness educator who is also the person behind the "Inside Out Beauty" and "Healthy, Wealthy and Wize" seminars, The Pennywize Vegetarian is the perfect guide for anyone wanting to eat healthier or on a budget.
As a mother of three, Andrea found it hard to afford to practice what she preached when it came to feeding her family a balanced diet. Like many people, she knew the benefits of healthy eating, but the cost was prohibitive and many ingredients were hard to find. She decided to think "outside of the box" and look for key ingredients that were cost effective and nutritionally dense at her local grocers and create meals featuring those ingredients. In time, she was able to cut the family's food spending by half and still enjoyed delicious nutrient rich meals.
Andrea began sharing her recipes and tips with clients and colleagues, who were also experiencing challenges "bankrolling" a healthier lifestyle. Using Andrea's recipes and tips, one client was able to feed her family of 8, breakfast, lunch, dinner and snacks for about $100 a week- including meat. A vegetarian family of five reduced their spending from $150 to $65 a week. As the word of mouth spread, the demand for the information was overwhelming and thus The Pennywize Vegetarian- The "How-to" Guide for Better Eating on a Budget was born.
The book is written in a simple, condensed, illustrated format that is ideal for today's busy lifestyles. It covers everything necessary to prepare budget friendly, delicious, healthy meals, snacks and more. The ingredients are easy to find and the recipes are adaptable. There is even a section designed for meat eaters who want to include more grains and vegetables in their diets, but do not want to commit to a vegetarian lifestyle.
Until now, the clear guidance provided by The Pennywize Vegetarian – The "How-to" Guide to Better Eating on a Budget has been available only to those who attended one of Andrea's seminars, but now everyone will be able to have access to this vital information. The Pennywize Vegetarian is being released to the public on Monday April 11, 2011. The book is value priced at $12.95 and is available on Amazon.com.
###