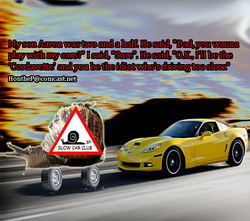 You can tell if two people are married because they will be yelling at the same kids.
West Bloomfield, MI (PRWEB) April 12, 2011
HeardonthePlayground.com recently launched Story Montages. These are eye catching illustrations of photos or kids' drawings created to enhance the humor of the funny kid quotes. Heard on the Playground is the place to have fun, and now has the pictures to prove it.
In January of 2010, an overwhelmed Mom of three "entertaining" kids decided she couldn't be the only parent who was shocked, embarrassed and amazed on a regularly basis. Initially, she set out to make herself feel better about her own kids by collecting funny kid sayings and quotes from other parents, grandparents, relatives, teachers and friends. The response was so tremendous that Andrea Jacoby decided to share these stories with everyone by creating HeardonthePlayground.com (HontheP).
HontheP has already assembled the largest collection of funny kid stories online. It has quickly become the go to place for anyone looking for good laughs or to share their funny kid quotes.
Recognizing a picture is worth a thousand words, HontheP recently launched "Story Montages". This popular, new feature combines customized illustrations of funny pictures or kids' drawings with funny sayings submitted by people from across the nation. HontheP chooses the funniest quotes submitted to the site and creates illustrations that greatly enhance the humorous nature of the story. The result is often unbelievably hysterical and frequently jaw dropping.
The Story Montage feature is unique to HontheP.com. "No other website has tried this either because they were afraid or lacked the vision." Andrea Jacoby commented. "As a mother of three 'enthusiastic' kids, I'm constantly tested both mentally and physically, so going into unchartered creative territory is a breeze compared to the everyday challenges of parenthood. She added "Just recently I started my morning off trying to convince my daughter not to sell her brother on e-bay; and I ended it by telling my 3 year old not to say 'truck" in public since it sounds remarkably like a swear word starting with the letter F."
It seems the creative risk of adding Story Montages to the site is paying off as more and more viewers flock to HontheP for their daily dose of humor. Who can resist the illustrations of the little girl telling her teacher that Mommy was stoned and had to go to the hospital when Mom actually had gall stones; or the little boy who when playing cars told his dad to be the idiot in front of him driving too slow; or the mother who proudly displayed her child's drawing of scissors on the refrigerator even though it looked like surprisingly like a part of the male anatomy.
Believing that kids are not only naturally funny but also artistically talented, Andrea Jacoby has turned to her own children for illustrations for the site. This was not an easy process, though, as she explained "After weeding out my 3 year old due to communication issues and disqualifying my 10 year old due to his commitment to sports, I finally formed a wonderful working relationship with my 7 year old daughter who provides her artwork to the site."
Andrea Jacoby believes that like most parents, she has a lot of wonderful kids artwork coming into her house that no one gets to see. As a result, she decided to show kids' artwork off to a national audience by including it in the Story Montages. The public will no longer be denied access to great works of art by children now that these masterpieces can be easily viewed at Honthep.com instead of hanging on the refrigerator door.
Based on its initial reception, Story Montages are a big hit. They greatly enhance the site and viewers enjoy seeing how their funny stories come to life with the funny pictures or drawings that are added. Share the laughs and check out http://www.HeardonthePlayground.com for yourself.
For more information contact: Andrea Jacoby at http://www.HontheP(at)comcast(dot)net or (248) 762-4321.
###