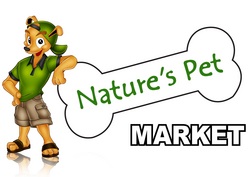 Nature's Pet Market Las Vegas signals a shift of focus from regional growth to national growth
Lake Oswego, OR (PRWEB) April 5, 2011
Nature's Pet Franchising (http://www.NaturesPetFranchise.com ) announces the grand opening of a new Nature's Pet Market store located in Las Vegas, NV. The store's official grand opening celebration will be held on April 16th, and becomes the 14th Nature's Pet Market to open and first outside of Oregon and Washington. Other stores set to open in by the end of April include: West Linn (OR) and Ashland/Medford (OR). More stores are scheduled to open throughout 2011.
"Nature's Pet Market Las Vegas signals a shift of focus from regional growth to national growth," says Nature's Pet Market Franchising President Mike Seitz. "We are very excited about the direction we are heading and anticipate nearly 30 stores within the system by the end of the year."
Although Las Vegas does not include grooming at this time, it is anticipated that grooming will be available onsite at some point in the near future and the space has been designed accordingly. "In an effort to create more of a one-stop shopping and service experience, all new franchise stores include grooming," says Seitz.
The 14th Nature's Pet Market location was opened by franchisee Walter McCarthy, and is located at 7260 W. Lake Mead Blvd., Suite 1, Las Vegas, NV 89128 at the corner of Lake Mead and Tenaya in the Whole Foods Shopping Center.
About Nature's Pet Franchising
The Pacific Northwest's first natural pet food and supplies franchise system, Nature's Pet Market has become one of the most recognized names in its industry throughout the Northwest. Nature's Pet Market stores offer one of the largest selections of all natural pet food, raw food, treats, and accessories. Nature's Pet Market Franchising operates 14 franchised and pet retail locations. Expansion plans will make Nature's Pet Market the 3rd largest pet specialty retail chain in the Pacific Northwest by the end of 2011 behind Petco® and PetSmart®. The Company is based in Portland.
# # #