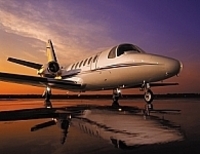 By chartering a luxury private jet, you fly like you own it & pay like you don't - say the founders of Blue Star Jets Ricky Sitomer and Todd Rome.
New York, NY (PRWEB) April 5, 2011
Blue Star Jets, that started as a new Private Charter Jet Flight venture in 2001 by Ricky Sitomer and Todd Rome, has become a 10 year industry leader this month. Blue Star Jets (named after the fictional Airline of Gordon Gekko in the original iconic blockbuster movie Wall Street) has created an entirely new industry segment of Private Charter Flights. Ten years ago Private Flights were only available to the super-rich who owned their own private airplanes, through expensive contractual Fractional Ownership programs or by flights contracted from operators, like NetJets.
Blue Star Jets created an entirely new service by identifying and making available to its clients the best prices available for private charter flights worldwide. Blue Star Jets makes this possible by making the top tier Worldwide operators compete for the business to make available the right airplane at the right location at the best price and thereby getting the best competitive deal for the client, instead of a fixed contractual price set by any operator.
Blue Star Jets has kept its industry leading position by not only offering the best price and service, but by continually expanding its range of offerings by adding new, novel services, like the Empty-Legs flight search, Shared Private Flights and other new services currently under development.
Blue Star Jets has arranged over 100,000 flights to-date for its many loyal customers, ranging from the elite in politics, industry, entertainment stars, sports celebrities and the well-healed individual traveler. Many discriminating flyers have also discovered that a Private Charter flight for a group can be only slightly more expensive than First Class airfares and result in significant time savings and added luxury unmatched by Commercial Aviation at any price. As a result Blue Star Jets has arranged for many Private Charter Flights for wedding parties, sporting events, family vacations and other special occasions to ensure that Private Flights are no longer only for the super rich, since our Private Charter brokerage has significantly lowered the price barrier.
As Blue Star Jets celebrates its 10th birthday, look for exciting new service offerings from this Private Jet Charter flight industry leader.
###