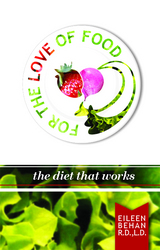 Portsmouth, NH (PRWEB) April 11, 2011
In For the Love of Food: the Diet that Works (156 pp $14.95), bestselling author and Registered dietitian Eileen Behan http://www.eileenbehan.com takes the science behind losing weight and uses it to create a new weight loss plan. Behan is a professional nutritionist with over thirty years of experience, and has authored eight other books on family nutrition. In 2007 she created the award winning program, the For the Love of Food Project, and the book has since developed from its success. "If you have tried many 'diets' and want an approach that is simple and effective, try For the Love of Food: the Diet that Works.," Behan says. "It can work for you, your children, your partner. It works for the environment, for those who love to cook, and it can work for those who never learned to cook as well."
Eileen Behan strives to shift the current mindset of mainstream dieting. Instead of focusing on fat and calories as traditionally taught, it's the quality of the menu and the foods combined together on the plate that are the most important factors to eating properly. Behan has studied the research throughout her long career and the message to her is clear: to lose weight, we must eat the food that actually helps our own biology control appetite. Once our appetite is under control, we can reduce calorie intake. The weight loss follows. This is the point that is currently missed with other diets: our appetite is simply never in control unless we feel full and are happy with the food we eat.
"Most people are misinformed about weight loss, as they tend to fill their plate with the wrong options," Behan says. "Pretzels, rice cakes, granola bars and other 'healthy' snacks have a good reputation, but they are often the reason people, including children, can't lose weight and actually gain weight." These foods are all 'dry' foods, she adds, that contain no water. Water carried in a food is one way to curb appetite. Worst of all, these snacks crowd out the 'wet' foods, such as fruit, vegetables, and low fat yogurt, to name a few. Behan asks people to "rethink" how they eat carbs, too. Eliminating potatoes, rice, bread or pasta leads to a short term, temporary weight loss that is eventually erased once those foods are reintroduced, and it often causes a rapid - and greater - weight gain. Also in the book, Behan recommends we never eliminate carbs, but instead we should only eat them at meals in combination with the foods that keep them under control.
Though Behan has worked in the field for decades, it was a simple sentence in a 2006 professional journal that listed the ailments brought on by poor diet that made her stop and think. In 2007, she created the For the Love of Food (FTLOF) Project http://www.fortheloveoffood.org that advocates a simple style of eating; she calls it 'eating the FTLOF way'. The project has been featured on New Hampshire Public Television, received an award from the American Dietetic Association, and a grant from the New Hampshire Comprehensive Cancer Coalition. At lectures, classes and workshops, everyone always had more questions about eating the FTLOF way and little by little, the content in For the Love of Food: the Diet that Works was developed.
Behan's premise is simple, she says."Whatever the meal, fill at least half your plate with fruit and vegetables. Eat 'carbs' only with meals, and chose 'wet' foods as snacks." It might sound counterintuitive, but Behan recommends avoiding hunger because hunger is, after all, the stimulus that causes us to eat. She also recommends that we avoid 'diet' foods because they create a permanent state of hunger. The FTLOF diet does not eliminate any foods, making it perfect for families, and its ultimate goal is to provide a basic, easy structure for eating better.
What people are saying:
"For the Love of Food - The Diet That Works is not so much a diet as it is a way of life, one that celebrates flavor and promotes health. This book should be used both as a reference and a guide to better living. And it should be in everyone's kitchen."
--- Mary P. McGowan, M.D., author of Emily Klein's Diary, Heart Fitness for Life, 50 ways to Lower Your Cholesterol and The Hypertension Sourcebook.
"Read For the Love Of Food and you will not only lose weight, but access the concept of wet and dry foods, which makes dieting easy. This is a book that gives all you need for short and long-term success... and the recipes are great."
--- Judith Paige, registered dietitian and author of Choice Years
Garden Minestrone Soup
Enjoy this soup at lunch or dinner and you will be eating the FTLOF way today!
Serves 6
26 ounce can chopped tomatoes
2 medium onions- thin sliced
1 clove garlic minced
2 large zucchini, sliced
1 medium head romaine lettuce, shredded
1 cup parsley minced
2 tablespoons basil, minced
1 pkg ( 10 oz) lima beans, edemame beans or one 15 ounce canned beans of your choice (beans are optional)
2 tbsp olive oil
salt and pepper to taste
1. Pour the tomatoes into a 3 quart saucepan. Layer all remaining ingredients on top of the tomatoes finishing with the olive oil, drizzling it over the vegetables. Do not mix or stir. Cook, covered 10 minutes on moderate heat or until the vegetables release their juices.
2. Now stir vegetables and mix well, season with salt and pepper. Cover and cook 40- 50 minutes or until all vegetables are tender.
Nutrition per serving: Calories 106, Fat 5.2 g, Saturated Fat 0.7g, Cholesterol 0 mg, Sodium 30 mg, Carbohydrate 14.3 g, Fiber 4.3 g, Sugar 7.8 g, Protein 3.6 g.
About Eileen Behan:
The founder, and author of the For the Love of Food book, Eileen Behan originally trained at the Brigham and Women's Hospital in Boston and has more than 25 years of experience working with individuals and families. Behan is the author of eight books on family nutrition, including the bestselling Eat Well, Lose Weight, While Breastfeeding (Ballentine 2007). She has written articles for the Washington Post, Newsweek, Parents Magazine and Parenting. For more information visit http://www.eileenbehan.com and http://www.fortheloveoffood.org. The book, For the Love of Food Project: the Diet that Works, is currently available for purchase on Amazon.com.
CONTACT: Eileen Behan
603-431-1433
info(at)eileenbehan(dot)com
###