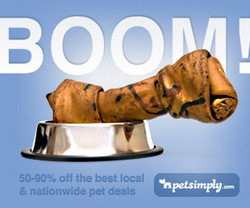 Deals Dogs will Dig.
Kissimmee, FL (PRWEB) April 22, 2011
PetSimply.com offers deals dogs will dig. Similar to the daily-deal model popularized by Groupon, PetSimply.com is a collective buying website for savvy pet owners.
Tapping into the power of collective buying is a way to save money during a recession. Save 50 to 90 percent on must-haves for dogs, cats, fish or the rarest of pets. PetSimply.com finds the best, sometimes hidden, deals on food, meds, supplies, gourmet treats, toys, fashions, boutiques, and more.
PetSimply.com sends out an email advertising the deal-of-the-day. If enough pet lovers buy the coupon by midnight, the deal is on and the featured business benefits from the sales. Everyone who accepted the approved deal receives a voucher via email the next business day to spend like an online gift card. Participants can also earn money to spend by sharing deals with friends.
The site's mission is to help those who help pets. Play a role in the PetSimply.com community and help a pet charity receive a donation.
The PetSimply.com community also decides what deals are offered and which pet owners are spotlighted. Refer a business to run a daily deal and receive $50 to spend on the site.
Timing is everything when it comes to the deal-of-the-day. Sign up at http://www.PetSimply.com to receive a daily announcement and grab the online discount before it expires. "Follow" PetSimply.com on Twitter at http://www.twitter.com/petsimply and "Like" them on Facebook at http://www.facebook.com/petsimply, and qualify for $50 to spend on the site (see site for details).
# # #