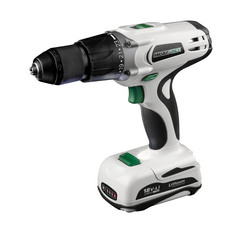 Arlington Heights, IL (PRWEB) April 7, 2011
If there's only one power tool in the household, then consider a cordless drill/driver. This versatile power tool is the ticket to tackling all kinds of projects throughout the house and in the yard.
Consider the new MasterForce™ 12V or 18V lithium-ion models. Both are capable drill/drivers available at Menards® online. If there's a chance of adding additional tools later, then buy a combo kit. The tools are less expensive in the long run.
Now, to make this tool capable, choose the right accessories. There are loads of drill bits in the accessory aisle at home centers, and a good set of bits are indispensable.
Next, get a good set of nutdrivers. These are widely available at home centers such as Menards. They come in a variety of sizes and sets. Nutdrivers are handy for driving hex-headed screws and bolts. Since the nutdriver grabs the screw or bolt on multiple sides, there's less chance for slippage or runout, which provides more control.
For example, many of the screws supplied with mini blinds have hex heads. Due to limited clearance, a set of nut driver hand tools will handle the installation job, but if there areis multiple blinds to install, a drill/driver with the correct nut driver, will speed the process.
Let's say you need to replace a door or add a deadbolt to an entry door. Consider purchasing a hole saw. Hole saws are available in different sizes and they basically look like a mini oil drum with teeth. When chucked into a drill, hole saw's allow the user to produce concentric circle cutouts. If the drill/driver has a built-in level, it helps ensure that the hole is straight.
For sanding jobs, 3M's Sanding Kit with a 5 in. disc pad is handy and it chucks into the drill/driver. Apply adhesive-backed sandpaper, and in a pinch, you have an instant sander. Depending on the project, start with rough sandpaper first and then switch to paper with a higher grit. The higher the grit number, the smoother the finish. There's even sanding drums that chuck into the drill and accept a variety of sandpaper grits. These are handy for specialized sanding jobs and contour shapes.
A great way to remove paint is by scraping it down to the raw metal. It's tedious work, but necessary to achieve a solid foundation for priming and painting. A 3 in., mini-abrasive flap brush chucks into your drill/driver to help peel away old paint. It also sands and shapes wood. For rusty metal surfaces, a 4 in. abrasive nylon wheel brush will help take the surface to bare metal. A 4 in. flap brush also is handy for removing rust.
Forget the paint sticks, because, yes, there's even a paint mixer accessory that chucks into the drill to stir paint. Maybe it's not practical for a single gallon, but if there's a lot of painting to do, it can be a real time saver and reduce hand fatigue. There's even a paint mixer formixer for five gallon buckets, but the drill needs to have a ½ in. chuck to accept it.
Drill/driver accessories in the hardware aisle same time, frustration and money, so don't forget to visit the aisle often. There are hidden treasures to be found – the kind your drill/driver won't want to be without.
Editor's Note: Media Contact: MKM Communications at
847-255-1903 or mkmcomm(at)gmail(dot)com
###