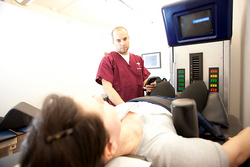 Many people suffering from back problems who have been told that the require back surgery may not in fact need it.
New York, NY (PRWEB) April 5, 2011
New York City's Herniated Disc and Sciatica Seminar will take place April 28 and April 30. During this time Dr. Steven Shoshany and Dr. Rolland Nemirovsky, from Living Well Medical will be holding free seminars on non surgical back pain treatments, and assessments, including the DRX 9000 spinal decompression machine.
The DRX 9000 machine is a cutting edge, non invasive, non surgical treatment that does not require drugs or impact the patients lifestyle. The DRX 9000 is specifically built to treat chronic, painful back conditions.
Many people suffering from back problems who have been told that the require back surgery may not in fact need it. Many patients with bulging or herniated discs in their lumbar, or cervical spine have been told that they will need surgery to fix their problem, and don't know that non surgical options are readily available right here in New York City. Spinal decompression is also suitable for people who have Failed Back Surgery (FBS) syndrome.  
Traditional drug treatment can lead to adverse side effects like liver and kidney damage, and complications from pain medications lead to thousands of deaths in the U.S. alone. People need to be aware that they can get better without drugs and surgery.
Dr. Shoshany, New York City's leading Chiropractor and an authority on chronic lower back pain says: "Often when patients find out that they have to have surgery, they are scared and confused about their options and feel like that surgery is inevitable. We want to provide them with all the information they need on non surgical alternatives and help them reduce and even eliminate their pain, so they can get back to living their lives."
An overwhelming majority of the US population will experience serious back pain at some point in their lives and for many of them the back pain will be chronic. Chronic back pain is a major cause for concern for many individuals in New York City, and has many adverse effects on lifestyle, even impacting job performance, and family life. Its not just about not being able to work out, Imagine barely being able to work and then getting home and not being able to play with your kids.
If you are suffering from back pain and don't want to wait for the seminar or if the dates conflict with your schedule, you can schedule a complimentary consultation and a tour of the treatment facility at any time. Call 212 645 1495 and mention Sciatica and Herniated Disc Seminar.
The free Sciatica and Herniated Disc seminar will take place over 2 days and will feature expert presentations on the topics of back pain,  sciatica, herniated discs, and how spinal decompression and chiropractic care can eliminate the need for surgery. The presentations will be held at 632 Broadway, Suite 303, from 7:00-8:30 PM. The tour of the Living Well Medical center will also be a part of Herniated Disc and Sciatica seminar. 
This is a free seminar to help New York City residents suffering from back pain or looking for an alternative to surgical treatment, there is no attendance fee or ticket to buy. Dr. Shoshany and Dr. Nemirovsky will also be reviewing MRI's, so people are encouraged to bring in their MRI's for a free consultation after the seminar.
###