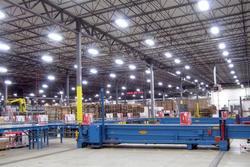 "It adds up quick, when business owners realize they can improve their bottom line, receive a huge First Energy rebate as well as an accelerated tax deduction, it becomes a no brainer!
Hudson, OH (PRWEB) April 14, 2011
First Energy just introduced an extremely lucrative lighting rebate incentive, available to businesses in Northeast Ohio who perform a lighting retrofit project, converting their light fixtures to energy efficient lamps and ballasts.
Owners and managers of warehouses, manufacturing facilities and industrial businesses have seen how converting to energy efficient T5 and T8 high bay light fixtures from their old 400 watt hi-bay, metal halide fixtures can save them over 50% in energy costs and most realize a significant improvement in light levels.
AEP Ohio Power has been extremely successful with a similar program for almost two years. Finally Cleveland and Akron area business can save 50% on their lighting energy costs and obtain a First Energy rebate to cover the majority of their project cost.
ROI Energy, working with Lighting Services of Twinsburg, Ohio, has promoted energy savings by performing lighting retrofit projects for businesses in and around Ohio since 1998. Bob Taussig, president of ROI Energy Solutions has realized tremendous success promoting these cost savings projects.
"We see the fastest paybacks when we retrofit factory and warehouse high bay and low bay HID fixtures to T-5 or T8 energy efficient fixtures. The other area that has a quick payback is when we retrofit (convert) commonly found office 2 x 4' troffers using T-12 lamps to T-8 lamps and electronic ballasts," claims Taussig.
Taussig further states: "Smart business owners see the benefit of reducing their energy costs by converting to energy efficient lighting. Half the energy, more light, accelerated tax deductions through EPAct and now the icing on the cake is First Energy's extremely generous lighting incentives, which can pay as much as 80% or more of their project cost".
Taussig claims that before, businesses typically realized two year paybacks. First Energy's new lighting rebate will dramatically improve those paybacks to 8-18 months, in some case even faster. First Energy will pay 80 cents per watt of reduced energy on lighting projects. "It adds up quick," says Taussig, "When business owners realize they can improve their bottom line with lower utility bills, get incentive dollars from First Energy, an accelerated tax deduction and a safer, more productive work environment, it becomes a no brainer."
ROI Energy of Twinsburg, Ohio, performs turn-key lighting retrofit projects to help businesses with existing metal halide fixtures, reduce their energy costs by 50% by performing a lighting retrofit conversion to energy efficient, high intensity fluorescent high bay and low bay lighting using T5 or T8 fixtures. "These First Energy rebates won't last long once word gets out. I encourage you to call today, before it's too late. The incentives are paid out on a first come, first served basis, so when they're gone, they're gone."
For more information, contact Bob Taussig of ROI Energy Solutions at 330-931-3905 or visit http://www.ROI-Energy.com
# # #