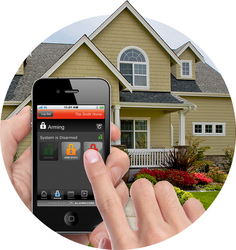 Vienna, VA (PRWEB) April 1, 2011
Spring has sprung, and just in time for spring cleaning, Alarm.com is encouraging homeowners to rethink the outdated security system they're growing out of and consider a smarter security system.
Feeling a little green in your knowledge about home security systems? Not a problem. Home alarm systems are simple to use. Today, it's easy to control a home security system right from a web-enabled computer or smartphone. Learning the basics will help homeowners interact with a security system every day. To quickly get up to speed with the interactive security solutions available, Alarm.com offers five basic tips to protect your home and family on a daily basis:
1. Make yourself at home
Set up motion sensors throughout the home to communicate all activity that takes place. Even if the security system is disarmed, you can still find out what's going on at home. Interactive security systems can keep track of both alarm and non-alarm events at home. Find out when the kids get home from school, when the delivery truck arrives or when the cleaning crew leaves, for example. Or check to see if any doors or windows were left open.
2. Put security in your pocket
Homeowners constantly on the go rely on their cell phones to regularly check in with people who matter to them. Checking in on your home is no different. Simply download a free mobile app to control the security system and monitor the home when on the go. Today, security apps for iPhone, BlackBerry or Android devices enable arming and disarming of the security system from afar and also the ability to watch live or recorded video footage from security cameras while away from home. Or, control lights and thermostats right from a smartphone with a home automation solution integrated with a security system.
3. See your way to safety
A security system can truly become a window to your world. To watch over the house while away, use any smartphone or computer with access to the Internet to manage and monitor video surveillance cameras. Even view live video of your kids playing in the basement or save clips of visitors at the front door to know who came to the house that day. Control your camera settings right from a cell phone and, when video footage is recorded in important areas, receive clips via email and text message to stay aware of what's happening at home.
4. Use your security system to stay informed
No matter where you are, stay connected to home with a wireless home security system. Set up custom email and text message alerts to stay informed about events that matter to you. Be alerted whenever the security system is armed or disarmed. Or find out about a power failure or a water leak in the basement before it's too late.
5. Make your security system even smarter
There are endless ways to use a security system to protect your home. With home energy management features integrated into the system, lights can automatically turn off when you leave for the day. Also, use an integrated home automation solution to lock all the doors in just one click when the security system is armed at bedtime. Or turn down the thermostats according to daily routines. Additionally, it can assist in setting up personalized user codes for any visitors who come to the house when you're away, eliminating the worry about making multiple copies of the keys.
With an interactive home security system, achieve greater awareness about what's happening at home while away. Spring for convenience, control and peace of mind with easy-to-use and affordable security solutions that fit your lifestyle. Safeguard your home and family with smarter security.
About Alarm.com
Alarm.com Incorporated is the industry leading technology provider of interactive security solutions. Through advanced wireless monitoring and web-based services, Alarm.com protects and alerts hundreds of thousands of residential and commercial customers throughout the United States and Canada. Alarm.com's products and services are offered exclusively through a network of over 1,500 licensed and authorized Security Dealers. Alarm.com's corporate headquarters is located in Vienna, VA. For more information, visit http://www.alarm.com.
###