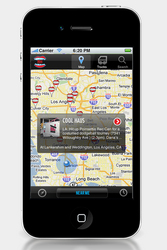 "Our users are embarking on a daily food adventure to seek out the best gourmet street food vendors and this app is the ideal compass for that journey."
Los Angeles, CA (PRWEB) April 5, 2011
Your next food truck meal is now an iPhone app away. Roaming Hunger is going mobile and allowing food truck eaters to locate their favorite gourmet food trucks in just seconds, leaving much more time to contemplate what's on the menu. Over 800 vendors across the US are featured in the app, with plenty of variety in every major city.
In the app, foodies can sort meals by breakfast, lunch, dinner and late-night and can browse local areas with an interactive Google based map to find their next mobile meal. The software is available to download for free in the App Store.
"Going mobile was the natural progression," says Ross Resnick, founder and Big Burrito of Roaming Hunger. "Our users are embarking on a daily food adventure to seek out the best gourmet street food vendors and this app is the ideal compass for that journey."
Find out where your next meal is parked at http://roaminghunger.com/blog/2891/the-iphone-app-is-live.
*Napkins not included
ABOUT ROAMING HUNGER: Roaming Hunger officially launched in December 2009. Since then, no cart, truck or stand has gone unnoticed. As the connoisseur of curbside dining, Roaming Hunger profiles well-known hot spots, such as LA's food truck darling, Kogi BBQ, the very popular Wafels and Dinges in New York, as well as delicious up-and-comers, like the Southern Mac Truck in Chicago. Soliciting community ratings through a 'heart' system, Roaming Hunger provides reference and excitement to anticipatory taste buds.
# # #