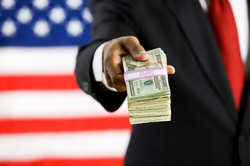 Saint Petersburg, FL (PRWEB) April 1, 2011
One of the greatest challenges facing new vendors after registration is figuring out how to approach purchasing officers and find government contracts. This can seem to be a daunting challenge to many small business owners. Jumping head first into the world of federal contracting means learning a new set of laws and regulations, unfamiliar jargon and how to navigate the red tape involved in working with the government. However, government contracting can be an extremely rewarding venture, especially for a small business. Successful vendors can expect steady, reliable work and revenue, gain valuable experience and even give their business an opportunity for growth.
Recognizing this challenge facing their registration clients, US Federal Contractor Registration developed their Targeted Marketing program to help new vendors find success in the Federal market. This program is tailored to help inexperienced contractors get their name out to those responsible for awarding contracts and purchasing goods and services for various government departments and agencies. In addition, US Federal Contractor Registration helps their clients find and use various tools to aid them in their search for contracts.
The Targeted Marketing program covers three main areas. First, a customized capabilities statement based on Department of Defense guidelines is developed for the business. This is sent out to a network of interested purchasing officers to alert them to the vendor's qualifications and desire to compete on future contracts. A more targeted mailing list is also developed for that business, identifying departments and agencies that have awarded contracts in the past that the client might have been eligible for.
Next, the client is introduced to a variety of tools to help give them an edge in their search for Federal contracts. The most important of these tools is the SBA's Dynamic Small Business Search. US Federal Contractor Registration develops a profile for the business including keywords, references and a brief description of their qualifications. As this is one of the primary tools used by procurement officers researching small businesses, an effective profile is extremely important for prospective vendors.
Finally, US Federal Contractor Registration helps vendors register and set up recurring search agents on FBO.gov in order to find upcoming contracts to compete for. FBO.gov lists all available federal contracts valued at $25,000 and over. While smaller companies may not be capable of acting as a prime contractor on these jobs, many of these contracts have subcontracting opportunities available for small businesses and other set-asides such as woman and veteran owned companies.
In addition to these three main services, Targeted Marketing clients also receive support and guidance throughout the program on a variety of contracting related issues. From assistance on choosing NAICS codes for their business to coaching on the self-certification requirements for the SBA's new 8m Woman Owned Small Business program, US Federal Contractor Registration helps inexperienced vendors navigate through the process of competing for federal contracts.
While no company can make guarantees that a vendor will receive a contract, US Federal Contractor Registration helps struggling, frustrated business owners get started in the right direction to successfully working with the Federal government.
###