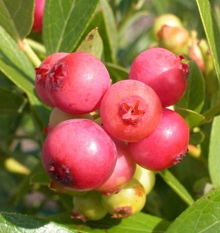 Charlotte, NC (PRWEB) April 1, 2011
Money may not grow on trees, but now, pink blueberries grow on bushes! That's because Fast Growing Trees.com is offering its customers an opportunity to purchase a rare variety of blueberry bush that actually produces pink berries. The Pink Lemonade Blueberry bush yields a delicious variety of sweet blueberry that has a unique pink color from which it gets its name--as well as its delicious flavor. Aside from the berry's distinctive coloring--a bright pink that conjures up images of a refreshing pitcher of pink lemonade on a hot summer day--the firm-bodied fruit tastes just like a blueberry.
"Close your eyes and you'd never know the difference," says Justin French, of Fast Growing Trees.com. "Our customers expect varieties that not only produce significant yields of tasty fruit, they also want great color and diversity--wherever they are planting. The Pink Lemonade Blueberry Bush delivers in every aspect. It's just another way Fast Growing Trees.com offers our customers the best selection of quality products at affordable prices," says Mr. French.
Not only does the Pink Lemonade Blueberry bush produce well and look great in the summer, its seasonal changes make the bush visually appealing all year long. For instance, in the harsh months of winter, the bush's twigs take on a rich mahogany look that helps add character to any garden. In addition, the winter fruit provides nutrients to song birds and an assortment of wildlife. The hardy bush features deep green, shiny leaves that turn golden yellow, giving way to bright orange foliage in the fall.
With all it has to offer--from eye-popping color, to tremendous yields of large delectable berries--the Pink Lemonade Blueberry bush will quench your thirst for a unique plant that will make everyone who sees it say, Wow!
###