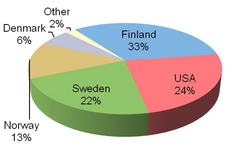 (PRWEB) April 4, 2011
Arcadia's income in 2010 left almost unchanged — 186.2 mln RUR, or 6.13 mln USD, or 4.62 mln EUR. The income in 2010 grew by 4.3 % compared to 2009 (in EUR). Slight decline in turnover translated to RUR and USD is due to the fluctuation of exchange rates: Arcadia receives 2/3 of income in euros.
Exciting new business applications development projects marked the start of Arcadia's collaboration with new clients. One of them was realized for US insurance business. According to client's requirements, Arcadia developed a custom web application for insurance automation — a virtual robot for automated gathering of information on all available insurance options for a client.
Previously this work was made manually by insurance agents. The agent had to visit one by one the calculation services of different insurance carriers, input all needed data and get the quote. This process took a lot of time. Now the agent has only to input all needed data once, and in few minutes there is a ready summary of findings imported into CRM system. This summary includes all options available to the customer. Implementation of the system reduced work-time and number of mistakes manyfold.
This project, along with a number of other projects realised recently for insurance companies, resulted in acquiring a new vertical expertise by Arcadia — insurance automation solutions.
All key clients stayed with the company for 2011 — F-Secure (Finland, information security), Aditro Group (Northern Europe, business process outsourcing, HR and accounting), it's learning (Norway, e-learning), UNI-C (Denmark, IT services), Johnson & Johnson Pharmaceutical Research and Development, L.L.C. (USA, development of innovative health care products), Digital Revolution (US, software development), Insurance company ERGO Russ (Russia), Banksurance.com (USA) and NIPK Electron (Russia, medical equipment).
A significant event of the year was the change in Arcadia's top-management. Arcady Khotin, the founder of Arcadia, left the position of the General Director after holding it for 17 years. The new General Director appointed was Sergei Baklan, former Executive Director of the company (since 1998). Arcady Khotin, as the main shareholder, continued to take part in the strategic management of the company.
Arcadia continued investments into its employees and into collaboration with educational institutes. In the first half of 2010 Arcadia, with the support of Non-Commercial Partnership "RUSSOFT", realized an education project for the students of the National Research University of Information Technologies, Mechanics and Optics (University ITMO) "Quality assurance system in development of business applications in SCRUM team."
About Arcadia, ZAO
Arcadia, ZAO, founded in 1993, is an innovative offshore software development company providing state-of-the-art custom software development, software re-engineering and consulting services to international clientele. Headquartered in St. Petersburg, Russia, Arcadia is ideally positioned to deliver high-quality software services to customers worldwide. Arcadia's core competence is development of tailor-made business applications, web applications, corporate intranet and collaboration portals for education & e-learning, insurance, pharmaceutical data warehousing, business process automation, accounting and financials, HRM and payroll, enterprise content management as well as custom information security solutions and development tools.
# # #