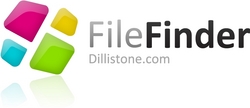 "The Initial feedback we have received on FileFinder 10 has been excellent, and we are delighted with our early contract wins."
Hoboken, NJ (PRWEB) April 5, 2011
Dillistone Systems is pleased to announce the launch of FileFinder 10, its "Next Generation" Executive Search software system.
The product has been in development since 2008 and is the result of a multi-million dollar investment. Clients in 11 different countries have joined the upgrade waiting list, and new clients in both the US and Europe have already signed up to implement the product. Early contract wins include firms switching from both UK based and US based competitors.
Jason Starr, Managing Director of Dillistone Systems, commented: "We are very proud of FileFinder 10. Its launch is of significant strategic importance to Dillistone at a time where we are seeing signs of recovery in our market.
"We have demonstrated through this launch that we are committed to supporting our clients with the most efficient and up to date suite of products, and have demonstrated to our competitors that we do not take our market position for granted. We are determined to build on our market share by ensuring FileFinder is the software of choice in our core markets whilst also continuing to develop new market opportunities.
"The Initial feedback we have received on FileFinder 10 has been excellent, and we are delighted with our early contract wins."
To coincide with the launch of the new product, Dillistone Systems has also launched a new website which features a streaming video of the product. This may be viewed at http://www.dillistone.com
Notes to Editors:
If you have any queries, please contact the marketing department at +44 (0)20 7749 6102 or email marketing(at)dillistone(dot)com.
Dillistone Group Plc, parent company to Dillistone Systems - the AIM listed supplier of recruitment software for executive recruiters, is the only global software provider to specialize in the supply of software and services to the Executive Recruitment community. Our clients range from independent researchers to major players in the industry. In fact, 50% of the leading Search firms in the world use our software in at least one office. Sizes of search firms can range between 1 and 1000 users.
FileFinder is unique in providing tailored workflow and approaching 24 hour support for global users, to mirror the profile and demands of an Executive Search assignment. FileFinder is used in more than 60 countries. To ensure that clients receive the best possible support in their operational use of FileFinder, Dillistone Systems has offices in the US, UK, Germany and Australia.
Visit http://www.dillistone.com to see a streaming video of FileFinder 10, demand a demo or attain further information about Dillistone Systems and FileFinder.
###