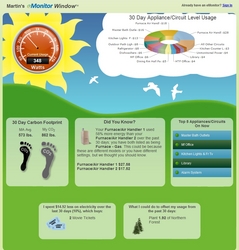 We are accustomed to diagnostics and alerts in cars, yet we have tens-of-thousands-of -dollars' worth of appliances in our homes with no idea on how they are performing, until now
Boston, MA (PRWEB) April 5, 2011
Powerhouse Dynamics, provider of the eMonitorTM, the first intelligent, circuit-level, home energy management solution, announced today the release of eMonitor 2.0. This new version of the eMonitor does even more to put the 'smart' in smart homes. An extensive expansion of analytics, diagnostics and alerts provides any home with automated intelligence to reduce energy usage and save money in multiple ways.
"The eMonitor's unique ability to monitor electricity usage at the circuit and appliance level combined with a proprietary back end intelligence engine allows us to provide home owners with a unique set of tools to help them better manage home resources and save money." said Powerhouse VP of Business Development and Marketing Tim Durant. "The eMonitor has always provided analysis and alerts, but we have greatly expanded them with eMonitor 2.0. For example, the eMonitor can now tell homeowners when the refrigerator door is left open, if the dryer is starting to cost more per load, and when the furnace filter needs to be changed. The monthly e-mailed Report Card now includes personalized savings recommendations." Durant added: "We are accustomed to diagnostics and alerts in cars, yet we have tens-of-thousands-of -dollars' worth of appliances in our homes with no idea on how they are performing, until now."
The eMonitor 2.0 also allows customers to share how energy smart their home is through the eMonitor WindowTM. This new public page allows homeowners to choose if they want to share and compare their electric usage and savings information with friends, or post on Facebook for some friendly competition. They can even choose to share specific Alerts on Facebook and Twitter.
The eMonitor is available from a nationwide network of dealers and on-line through various sites including EFI, Energy Circle, Smarthome.com and Amazon.com
About Powerhouse Dynamics
Powerhouse Dynamics' eMonitorTM is the first intelligent home energy management solution, designed to monitor all uses and sources of energy in the home, combining energy efficiency and renewable energy. The eMonitor uniquely monitors a home's electrical power consumption at the circuit level providing ongoing analysis, diagnostics and alerts to deliver actionable intelligence at the level of granularity required for effective energy management. For more information visit http://www.powerhousedynamics.com.
###