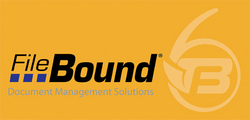 In the past, the capabilities found in FileBound 6 were simply out of reach for most organizations because of cost and technical complexity. This new release allows us to address a market segment that today is underserved with current solutions
Las Vegas, NV (PRWEB) April 5, 2011
Marex Group, Inc., developers of the market leading FileBound Document Management Solution, unveiled the next evolution of the FileBound Solution today at their annual partner conference. FileBound 6 addresses the three major market demands that are driving the mid-market document management space, including business process management (BPM), enhanced content discovery and mobile device support.
The new enhancements available in FileBound 6 allow organizations of all sizes to initiate document automation strategies to save time and money and create scalability.
"In the past, the capabilities found in FileBound 6 were simply out of reach for most organizations because of cost and technical complexity. This new release allows us to address a market segment that today is underserved with current solutions", said Rex Lamb, President, Marex Group Inc.
FileBound 6 continues to support the peripheral capabilities delivered with FileBound solutions that include document and data importing, automated document capture and integration with most line of business applications.
About FileBound
FileBound is developed and distributed globally by Marex Group Inc., a dynamic privately held corporation with business interests in the document management industry. Marex Group develops, delivers and supports solutions focused on innovation, a commitment to excellence and affordability. FileBound solutions can be deployed locally, outsourced as an On-Demand SaaS solution or deployed in the form of a network appliance.
The FileBound team has a proven track record of developing applications that have been implemented by organizations of all sizes around the world. Our mission is to continually leverage technology innovations to build market leading solutions that solve today's management challenges and ensure the growth and success of our customers.
###