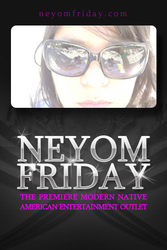 Youve seen and heard our Gaga speak of live, love and the soul of her existence. I will bring you what hasnt been expressed. All the beautiful. All the dirty.
Miami, FL (PRWEB) April 1, 2011
Neyom Friday, a member of the Arapaho and Muscogee Creek Nations, is entered into the 'to die for' contest called 'Little Monster Blogger.' Sponsored by Virgin Mobile and Lady Gaga, Friday will join Gaga at her April 13, 2011 show alongside Virgin Mobile's Monster Ball blogger, Dannielle Owens-Reid.
Friday interviews Indian country's most talented entertainers in the movie, music industry, and outstanding artists. Friday has entered a short video for the contest that closes on April 4th. There will be six winners that will be announced on April 6th.
According to Friday, "Whether we want to admit it or not, we can all relate to Gaga. Be it through her music, fashion, her will to live, or sheer determination to outdo herself over and over, she is a universal icon of self celebration."
There are three ways to vote in the contest: Facebook, Twitter or text. Text: TH M49W2S TO: 66337- Voting is allowed through all three social medias. The contest closes on April 4, 2011, 10 am (PST). The winner is announced April 6, 2011, 10 am (PST).
# # #