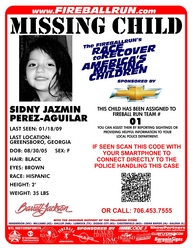 "This is 100% audience engagement," said J Sanchez, the Executive Producer. "The Fireball Run is a challenging 2500 mile interactive game; where America is the game board. Now fans can play along."
Universal Studios Orlando, FL (PRWEB) April 14, 2011
The Chevrolet Fireball Run Adventurally announces it is the first national motoring event to implement the use of Quick Response Codes (QR) transforming the 2500 rally into an interactive experience for fans as well as aid in the recovery of America's missing kids.
QR codes are similar to barcodes used by retailers to track price and inventory. QR codes are two dimensional barcodes that can hold literally thousands of characters of information. When a QR code is scanned with a camera enabled Smartphone, you can link to web sites or activate a broad range of cell phone functions.
The Fireball Run's Race to Recover America's Missing Children is the largest active recovery effort for missing and exploited children in the country. Each team is assigned a child from their home region along with thousands of posters to distribute along the route. A decal featuring the child is affixed to vehicles. Both posters and decals will have a QR code linking readers to the police hotline handling the case. To date, the effort has assisted in the recovery of 36 missing children.
Competition vehicles in the Chevrolet Fireball Run Adventurally are also covered with sponsor and destination decals each having its own QR code. The QR codes can be scanned anywhere along the 2500 mile route linking fans and spectators to special promotions, vacation deals, and even free giveaways.
The 2011 rally is themed "Southern Excursion". Nearly 50 teams will adventure over 2,500 miles in 8 days, driving everything from Lamborghini's to Camaro's to the Time Car from Back to the Future. Along the way teams solve clues and complete challenges in an attempt to score points, in addition to various motorsport challenges.
"This is 100% audience engagement," said J Sanchez, the Executive Producer. "The Fireball Run is a challenging 2500 mile interactive game; where America is the game board. Now fans can play along." Notables registered to compete in the event are NASCAR legend Geoff Bodine, Space Shuttle Astronaut Winston Scott, and Firefly Sweet Tea vodka Co-Founder Scott Newitt.
The Fireball Run Adventurally, sponsored by Chevrolet, Barrett-Jackson Auction Company LLC, LuxuryLifestyle.com, O'Donnell Corp, and RedBird Printing, and Firefly Sweet Tea Vodka is headquartered at the NBC UNIVERSAL Studios in Orlando Florida. The safe yet mentally challenging rally is welcomed by area leadership and law enforcement in each city.
The 2011 Chevrolet Fireball Run Adventurally starts September 23rd in Melbourne Florida and concludes October 1st in Gulf Port MS. Destinations include Peachtree City GA, Knoxville TN, Clarksville TN, and Anniston AL.
# # #