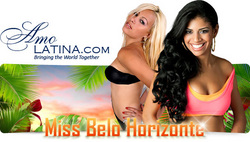 Rio de Janeiro (PRWEB) April 2, 2011
A beauty pageant to determine Belo Horizonte's web sweetheart has been announced by pre-eminent online dating experts AmoLatina.com.
Because everyone loves a beauty pageant, and what man doesn't appreciate the beauty of Brazilian women, Belo Horizonte, Brazil's third largest city, was chosen as a destination by AmoLatina due to its abundance of beautiful ladies. Indeed, word among Brazil's men has Belo Horizonte the place to go for talented, eye-catching Garotas.
The internet has increasingly become the destination for those seeking romance due to offerings of vast choice and efficiency. It's estimated that over 18% of relationships in the U.S., married and otherwise, began online. This is especially true in Brazil where demand is expected to triple in the coming years when Rio de Janeiro hosts World Cup 2014 and the Olympics in 2016.
It follows that beauty contests of the type traditionally seen on television are now seen on the net. And with bastions of beautiful women such as Belo Horizonte uncovered by experts like global dating specialist Anastasia International, parent of AmoLatina, a beauty pageant contestant or winner from across the globe is just a click away.
Anastasia has a knack for uncovering cache's of beautiful women where they flourish, staging excursions to such babe rich cities as Odessa and Kharkov in Ukraine, Medellin, Colombia, and now Belo Horizonte, Brazil.
So beginning March 31, ten young women handpicked by their local agencies will compete online at http://missamolatina.com for prizes and the title AmoLatina's Miss Belo Horizonte.
Carnaval has nothing on this event…
ABOUT ANASTASIA
Founded in 1993, Anastasia is the industry's leading International Introduction and Romance Tour Company bringing Western men together with women from Russia & CIS, Asia, Latin America and Africa for dating and marriage. Anastasia sites count over 100 million online visitors yearly and over 1 million letters exchanged onsite daily. Anastasia has been featured on numerous media outlets including: 48 Hours, The Daily Show, The Howard Stern Show, and Jennie Jones, and has been the subject of news features on ABC, CBS, NBC, FOX, CNN, the BBC. Anastasia has also appeared in publications such as Forbes, Playboy, Variety, Market Watch, Reuters and The Los Angeles Times. News and features about Anastasia have been broadcast in many countries including the U.S., Japan, Germany, The Netherlands, France, Italy, Switzerland, Brazil, Turkey and Australia. To learn more about Anastasia visit http://www.anastasiasites.com.
###