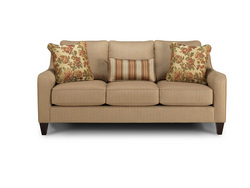 Furniture often follows fashion, and in recent years trends are moving from the runway to the living room very quickly
Monroe, MI (PRWEB) April 1, 2011
Fresh from spring showrooms, the trend report for home furnishings is out and according to La-Z-Boy, "BoHo chic" will soon be seen in living rooms throughout the country. From fabrics with florals and ornate designs to stripes and bursting patterns, BoHo chic, or Bohemian Rhapsody as La-Z-Boy is calling it, is one trend your home can "wear" all year long.
The bohemian trend made a splash in women's wear this fall, and now showrooms at the High Point Furniture Market are highlighting Bohemian Rhapsody, a combination of "old world" and fashion-forward styles. Often classified as a "hippy" look, Bohemian Rhapsody makes its way into home décor with the same oranges, browns and golds that make its layered looks so lovely on ladies. Each Bohemian Rhapsody fabric brings life to the living room – patterns translate seamlessly to sofas, loveseats and chairs and the multiple BoHo colors complement solid paint colors and accessories.
Furniture Follows Fashion
"Furniture often follows fashion, and in recent years trends are moving from the runway to the living room very quickly," said Penny Eudy, product manager of upholstery for La-Z-Boy. "Just like clothing is a personal taste, La-Z-Boy offers a wide-selection of furniture options, including fabric choices that fit your lifestyle."
New to Market, La-Z-Boy is showing fabrics that embody Bohemian Rhapsody including "Vanity" pattern in "Maple" and "Tolland" pattern in "Paprika." As shown in these fabrics, Bohemian Rhapsody includes an earthy color palette, bursting with hues of orange, red, brown and gray. The style incorporates the Bohemian lifestyle of free self-expression and comes to life with a collection of free-formed, whimsical patterns.
"The Bohemian lifestyle centers around individualism and choice, which is what consumers will get with these new fabric options," said Eudy. "Each pattern has an expressive look that allows consumers to identify with a particular style and incorporate it into their home decor."
To see the new Bohemian Rhapsody style, go to http://www.lzb3D.com to view the colors in a 3D room layout. Or, consumers can visit http://www.la-z-boy.com and search for fabrics in the design center.
About La-Z-Boy
Headquartered in Monroe, Mich., La-Z-Boy is one of the world's leading residential furniture producers. The company manufactures a full line of comfortable products for the living room and family room, including the company's world-famous recliners, reclining sofas and love seats, sleep sofas, modular furniture and leather upholstery, as well as stationary sofas, love seats and chairs. It is a division of La-Z-Boy Incorporated (NYSE: LZB), one of the world's leading residential furniture producers, marketing furniture for every room of the home. "Live life comfortably(SM)."
# # #